Titanic man to oversee NI sport stadiums projects
Last updated on .From the section Northern Ireland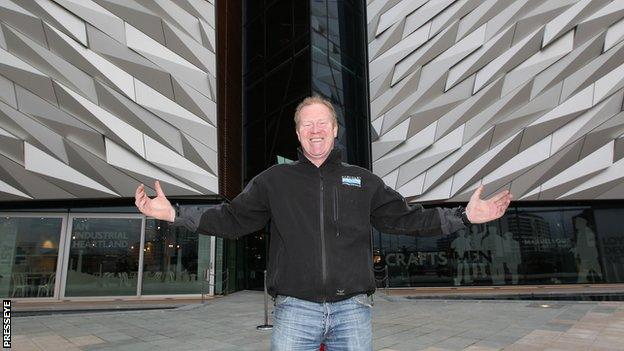 The man who oversaw the construction of the new Titanic Belfast building has been headhunted to project manage the redevelopment of the three Northern Ireland sport stadiums.
Noel Molloy will become programme director for the Ravenhill, Casement Park and Windsor Park projects.
Government funding of £130m has been signed off on for the overall project.
Up until now, Sport Northern Ireland had sole responsibility for the joint stadiums project.
Sport Northern Ireland is the public body tasked with the development of sport in Northern Ireland and employs over 80 people.
Funded by the Departure of Culture, Arts and Leisure and the lottery, SportNI works in partnership with Stormont as its implementation arm.
Sports Minister Caral Ni Chuilin confirmed that she had appointed Mr Molloy "as the new programme director following his role in delivering Titanic Belfast".
In a statement, the Sports Minister added that it had "become clear in recent months that the original estimates in the timescales for construction of the stadiums will not be met.
"Earlier this week I held further discussions with Mr Molloy and senior figures from rugby, soccer and gaelic. This followed constructive meetings last week with the SportNI chair and board," continued the minister.
"Having considered the options I have decided to bring overall operational responsibility for delivery of the stadium programme into my department.
"The stadium development programme is at the top of my department's agenda.
"Officials are working on a structured handover process with SportNI.
"This will ensure that the department, in conjunction with all existing stakeholders, can effectively deliver the next phase of the stadium programme.
"I wish to thank SportNI for its work to date, and ongoing assistance and support during the next phase of this vital capital programme."
SportNI's chief executive Eamonn McCartan was unavailable for comment on Thursday.
Prior to working on Titanic Belfast, Molloy, a native of Birr in county Offaly, was project manager for the refurbishment and redevelopment of the premier Royal Oasis resort in the Bahamas.