Cavan U21 manager Terry Hyland does not want senior job
Last updated on .From the section Northern Ireland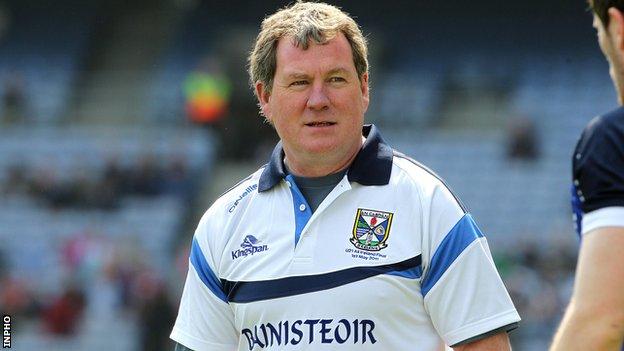 Terry Hyland insists he has no interest in taking over as Cavan senior manager despite helping the Under-21s retain the Ulster title on Wednesday night.
Cavan won the U21 title as they edged out Tyrone 1-10 to 0-10 in Enniskillen.
Departing senior boss Val Andrews resigned on Thursday after the players reportedly voted to oust him after a poor Football League campaign.
Hyland is a selector with the seniors but stated: "I am the Under-21 manager and that is where I intend to stay."
Former Cavan players Dermot McCabe, Peter Reilly and Anthony Forde have also been linked with the vacant senior job.
The Breffni blues struggled to stay in division three and only survived relegation when Tipperary beat Offaly in the last round of games.
However Hyland, who has a foot in both the Under-21 and senior camps, insisted: "I don't think there is disillusionment in Cavan.
"We have put out a very young squad at senior (level) and okay, they haven't done as well in division three as some people thought they might have done.
"But they're very young. The average age is 22. They will regroup and come again."
Hyland was speaking after leading the Under-21s to back-to-back Ulster titles with victory over Tyrone for the second year in a row.
He insisted he was not aware of a meeting which took place on Tuesday night, when the Cavan senior players are understood to have voted overwhelmingly to have Andrews removed.
"I have been wrapped up with this (Under-21 final) all day," he insisted.
"I have been working with nobody else but this group and I can't comment on what's going on elsewhere."
Hyland's Under-21 team were convincing winners over Tyrone in Brewster Park and led from start to finish.
"We had only five of last year's team and these fellas brought their own intensity and style to it," said Hyland.
"Tyrone have been the bench mark for underage football for the last 10 years. If we beat Tyrone we would count it as that we have won a real good final.
"Cavan have focused more on underage (teams) in the last four or five years and it has paid off."