GAA votes to adjust winter training ban for county teams
Last updated on .From the section Northern Ireland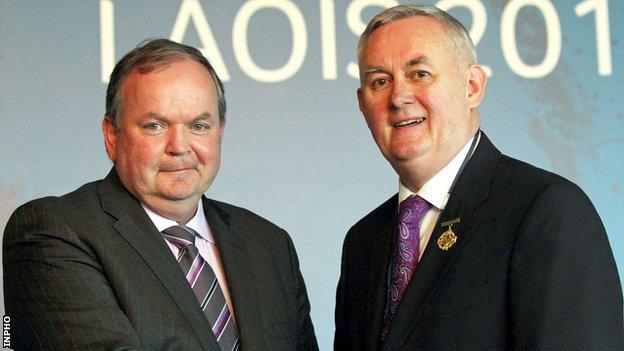 The GAA's annual Congress in county Laois has voted to make adjustments to the controversial winter training ban for intercounty teams.
Delegates voted by 84 to 16 per cent to approve a motion calling to introduce a new rolling training ban system.
Teams knocked out of the championship in June will be allowed to return to collective training on 15 November.
Counties that exit in July can resume on 1 December while the date for teams involved in August is 8 December.
However, teams involved in the All-Ireland Final will only be allowed to begin training on 29 December - only three days before the current regulations.
There will be no senior inter-county training or games from 21 to 28 December while underage county teams will not be allowed to train in November and December.
Intercounty U21 football teams can start training on New Year's Day while their hurling counterparts can train from 1 May onwards.
Minor hurling and football county teams will be allowed to start training on 1 March.