Seamus McEnaney holds on to Meath football job after vote
Last updated on .From the section Northern Ireland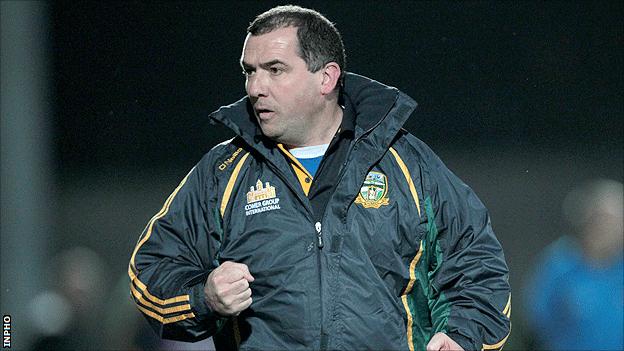 Seamus McEnaney remains the Meath football manager - but only just - following a confidence vote at a meeting of the county's clubs on Wednesday night.
The Meath board's management committee recommended last week that McEnaney should be removed following the team's league relegation to Division 3.
Clubs voted 43-21 to accept that county board proposal.
However, the result was six votes short of the two thirds majority requirement.
The Meath GAA executive had wanted former boss Sean Boylan to replace ex-Monaghan manager McEnaney before the upcoming Championship.
However following Wednesday's vote, Meath county chairman Barney Allen said that McEnaney would receive "full support" from the board.
Meath's players are understood to have backed McEnaney in addition to the support that he received from approximately one third of the county's clubs on Wednesday night.
Wednesday's meeting became heated at times with both McEnaney and the county board being criticised by a number of speakers.
Last week, McEnaney was given 24 hours to consider his position but he resisted calls to stand down.
Former Monaghan manager McEnaney has presided over 12 defeats out of 18 matches in league and championship.
Meath's next game is the Leinster Championship opener against Wicklow on 27 May.
Boylan was in charge of Meath for 23 years up to 2006 and led the Royals to four All-Ireland titles.
He recently stepped down after a brief spell as director of football with the county.