Guy Martin to challenge top Northern Ireland riders at Cookstown 100
Last updated on .From the section Northern Ireland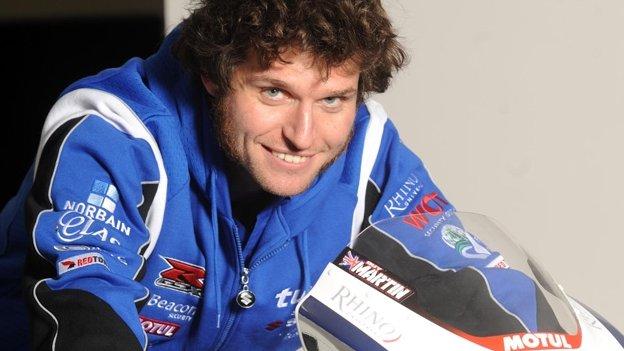 Lincolnshire rider Guy Martin will hope to challenge the supremacy of Northern Ireland's leading road racers at this weekend's Cookstown 100.
The colourful Tyco TAS Suzuki rider will compete in the Superbike and Supersport classes in a bid to get some track time ahead under his belt.
Martin holds the lap record for the Orritor circuit from last year.
Ryan Farquhar returns after winning five races last year and Michael and William Dunlop will also compete.
Dungannon man Farquhar has won 22 races on the County Tyrone circuit.
"I'm not putting pressure on myself to win five races - if it happens, it happens," said Farquhar.
"A lot of good riders want to stop me winning at Cookstown, but I feel I have nothing to prove, the pressure will be on them.
"They have made a few changes to the circuit, so it should be faster."
Australian Cameron Donald has decided to sit out the meeting and will not race again until the North West 200.
Michael Dunlop will race for the Cookstown-based McAdoo Racing Team, with brother William in the Wilson Craig Honda colours.
Other leading entries in the field include newcomer Steve Mercer, Michael Pearson, Adrian Archibald, Brian McCormack, John Burrows, Davy Morgan and Derek Shiels.
This year roads will close at the earlier time of 1200 BST for practicing on Friday, with three Support races being staged on the Friday evening.
Roads close at 1000 BST on Saturday for a 15-race programme, including the main Cookstown event, Open and Supersport 600 classes, Supertwins, 125cc and 250cc.
A new title sponsor, KDM Hire, will back the 90th anniversary of the event.