Fermanagh face Wicklow in Division 4 League decider
Last updated on .From the section Northern Ireland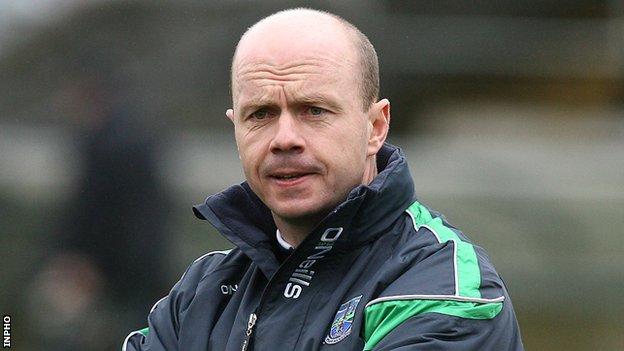 Fermanagh manager Peter Canavan says victory over Wicklow in Saturday's Division 4 Football League final [17:00 BST] would be a further boost for the county ahead of the Championship.
Promotion is already in the bag but Canavan says the Croke Park clash will be a "good test" for his side ahead of their clash with Down on 3 June.
"It's the last competitive game we are getting before the Down game," he said.
"It comes at a good time in terms of dealing with pressure on the big day."
Fermanagh's seven wins in their Division 4 campaign included a narrow 0-11 to 0-9 win over Saturday's opponents and Canavan recalls that it was a game that his side could easily have lost.
"It was far from easy. A game of two halves.
"In the first half, we were dominant and won a lot of possession around the middle and created a lot of scoring chances.
"But in the second half, they made a few changes and it was Wicklow who were winning all the possession around the middle.
"They would have felt that day leaving Brewster Park that they were hard done by and that they deserved at least a draw."
Canavan believes that his midfielders will face another tough afternoon against James Stafford while the Tyrone man also picks out Leighton Glynn, Darren Hayden and Seanie Furlong as players who would grace any intercounty team.
"We know that there's a difficult assignment ahead of us and that we'll have to play to our true potential if we are going to win."
Canavan believes that the Croke Park occasion will give him an insight in terms of how his squad is equipped to deal with "big occasions".
However, he has been delighted with the application display by his players so far in his short reign.
"A number of the games we played in Division 4 could have and probably should have seen us getting beaten.
"It was through perseverence and hard work that we managed to grab wins in those games.
"Even in training, the attitude has been first class and there has been serious commitment and serious sacrifices made."
Canavan's side shows four changes from the win over Leitrim last time out.
Niall Bogue and Brian Cox replace John Woods and Michael Jones in defence while forward changes see Eamon Maguire and Tomas Corrigan taking over from Brian Og Maguire and Daniel Kille.
James Sherry [back], Barry Owens [hamstring] and Tommy McElroy [hip] all miss out because of injury.
Fermanagh: R Gallagher, N Bogue, B Cox, N McGovern, C Quigley, R McCluskey (capt), B Mulrone, S Lyons, E Donnelly, D Keenan, S McCabe, R Jones, E Maguire, Seamus Quigley, T Corrigan.
WEEKEND ALLIANZ FOOTBALL LEAGUE FINALS
Saturday
Division 4
Fermanagh v Wicklow [Croke Park, 17:00 BST]
Division 3
Longford v Wexford [Croke Park, 19:00]
Sunday
Division 2
Tyrone v Kildare [Croke Park, 14:00]
Division 1
Mayo v Cork [Croke Park, 16:00]