Ryan Farquhar clinches four wins at Cookstown 100
Last updated on .From the section Northern Ireland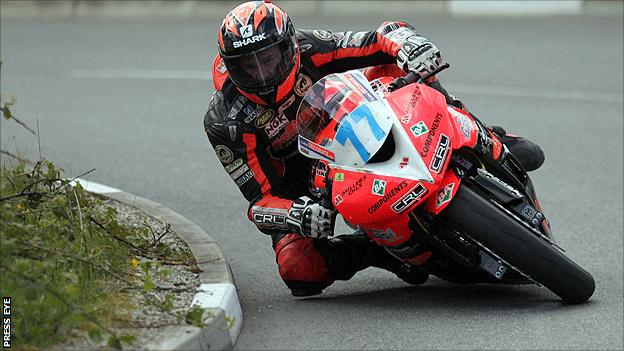 Ryan Farquhar clinched four wins at Saturday's Cookstown 100 including the main Superbike race.
Farquhar came in ahead of Michael Dunlop and Adrian Archibald in the big race of the day.
That followed his win over the Dunlop brothers William and Michael in a red-flagged 600 Supersport race and he also won the 450 moto and Supertwin classes.
William Dunlop clinched two early wins in the 125 and 250 events while Guy Martin won the Open Race.
Dunlop, riding for the Wilson Craig Honda team, took the opening 125cc race ahead of Nigel Moore and Sam Wilson.
He followed that with victory in the 250cc race where he came in ahead of Davy Morgan, Seamus Elliot with Kevin Strowger in fourth place.
Lincolnshire rider Martin won the Open Race with Ryan Farquhar winning the red-flagged 600 event.
Tyco TAS Suzuki rider Martin came in three seconds ahead of Farquhar and Michael Dunlop in the Open Race but the Englishman retired in the Supersport 600 event as Farquhar took victory ahead of the Dunlop brothers William and Michael.
It was Farquhar's second win of the day after his earlier victory ahead of Anthony McColgan and Darren Gilpin in the 450 moto event.
William Dunlop won the 125 event by 1.3 seconds and came in 2.7 seconds ahead of Morgan in the 250 class.
Martin was in second place in the main Superbike race but a mistake saw him dropping to fifth as Farquhar took victory.