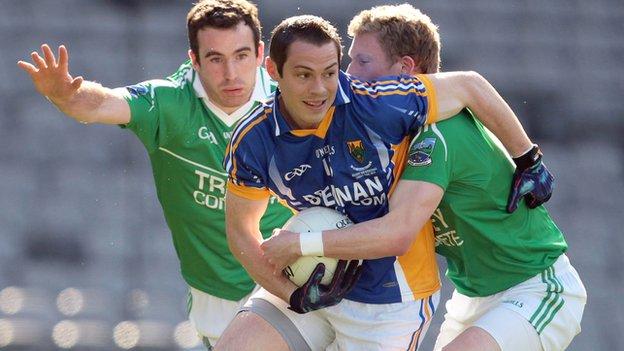 Fermanagh suffered an eight-point defeat to Wicklow in Saturday's NFL Division Four final at Croke Park.
Seanie Furlong and Ciaran Hyland scored early goals for Wicklow but Fermanagh hit back and Eoin Donnelly netted after 25 minutes.
The Erne county trailed 2-8 to 1-9 at half-time, having fought back from a nine-point deficit early in the game.
Fermanagh failed to fire in the second half and didn't score until the 57th minute as Wicklow cruised to victory.
It was the first defeat for the Ulster side in their league campaign.
Fermanagh made a bright start, chalking up the first two scores of the game, but Wicklow moved ahead with two goals in eight minutes from Furlong and Hyland.
Ronan Gallagher was unlucky to concede the second goal having made a fine block from Hyland's initial shot, but the rebound fell kindly for the defender and he fisted it to the net after 17 minutes.
The Fermanagh defence was all at sea and only for two other fine blocks from Gallagher, the damage could have been even worse.
Midfielder James Stafford was having a fine game as Wicklow dominated possession around the middle third.
He also scored two points from long-range as Wicklow stretched their lead to 2-6 to 0-3 after 21 minutes.
It already looked like Peter Canavan was about to taste his first league defeat in charge of the Erne men, but they responded well to adversity.
Fermanagh scored an unanswered 1-3 in a seven-minute spell, the highlight being Donnelly's goal.
Leighton Glynn stopped the rot but Tomas Corrigan made sure Fermanagh went in at half-time with everything still to play for.
He scored three points inside four minutes to inch them ever closer and the half-time deficit was a very manageable two points.
The game was in the melting pot and it was Wicklow who grabbed the chance, scoring the first four points after the break.
Not even the introduction of former All Stars Barry Owens and Marty McGrath could inspire the Erne men.
They didn't score from play in a very disappointing second half until another substitute, Daniel Kille, scored five minutes from the end.
It was a poor finish to Fermanagh's league campaign but with promotion already secured, the main objective for this part of the season was achieved.
The defeat should act as a wake-up call ahead of Fermanagh's Ulster championship opener against Down on 3 June.
Meanwhile, Longford secured a 1-12 to 0-13 win over Wexford in the Division Three final on Saturday night.