Down and Derry win opening matches in Christy Ring Cup
Last updated on .From the section Northern Ireland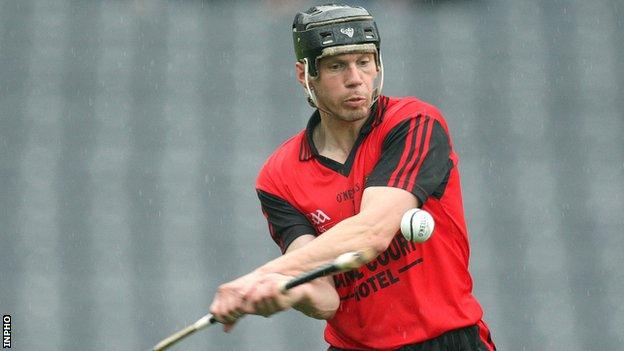 Three late points from Paul Braniff helped Down beat Mayo 0-19 to 0-17 in their Christy Ring Cup opener.
The Mournemen led 0-11 to 0-7 at half-time, with Braniff contributing three points in the opening period.
Mayo enjoyed the advantage of the breeze in the second half and had nudged ahead by a point on a scoreline of 0-15 to 0-14 at one stage.
Derry defeated Kildare by one point, 1-22 to 2-18, in their opening match of the campaign at Celtic Park.
The hosts registered 14 points from frees in a game in which Kildare started strongly.
But Derry took control in the second quarter and never trailed after that.
Kildare began strongly after Paul Divilly powered a free to the back of the net after a deflection off one of the Derry defenders, but the sides were tied at 1-1 apiece soon-after, with Oisin McCloskey netting a goal for the hosts.
The visitors led by 1-5 to 1-4 after 15 minutes, but scores from McCloskey and Paddy Kelly ensured Derry took the lead entering the second quarter.
Scores from Kelly and Paddy Henry kept Derry in front, with the hosts leading by 1-11 to 1-9 at half-time.
Henry continued to prove razor-sharp on the restart, with Charles Gilmore also making a strong impact on the Derry score-sheet.
Derry led by 1-16 to 1-10 entering the final quarter, but could have led by more but for a string of super saves from Kildare goalkeeper Paul Dermody.
At the opposite end Kildare registered their second goal from Divily to leave the score at 1-17 to 2-12.
Henry, Hinphey and Henry again were on target with points for Derry, and although Kildare finished strongly, the hosts done enough to book a place in the next round.
Down finished strongly and those three late points at Castlebar ensured they got off to a winning start.
WEEKEND GAA RESULTS
SATURDAY
Christy Ring Cup
Wicklow 2-20 2-15 Kerry
Mayo 0-17 0-19 Down
Derry 1-22 2-18 Kildare
Nicky Rackard Cup
Leitrim 1-06 4-22 Tyrone
Fermanagh 1-19 1-08 Longford
Donegal 1-15 0-14 Roscommon
Lory Meagher Cup
Leitrim 1-06 4-22 Tyrone
Fermanagh 1-19 1-08 Longford
SUNDAY
Christy Ring Cup Round 1
Meath 4-08 3-10 London
Connacht SFC
New York 0-06 3-21 Sligo
Cadbury's All-Ireland U21 Football Final
Dublin 2-12 0-11 Roscommon
Allianz Hurling League Division 1 Final
Kilkenny 3-21 0-16 Cork