Down earn Christy Ring Cup win but Derry lose in Wicklow
Last updated on .From the section Northern Ireland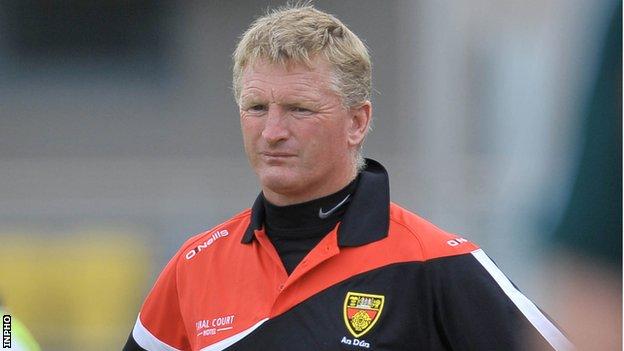 Down progressed to the Christy Ring Cup semi-finals after a 2-23 to 1-19 win over Meath but Derry face a quarter-final play-off after defeat by Wicklow.
James Kenny's goal helped Meath lead 1-6 to 0-0 at Newry but Conor Mageean's goal helped get Down going.
Down's Michael Hughes and Sean Heavey were sent off before half-time but the home side dominated the second half with Paul Braniff hitting a late goal.
A late John Connors goal helped Wicklow beat Derry 1-18 to 2-11 at Arklow.
Goals from Brendan Quigley and Patrick McCloskey helped Derry lead 2-6 to 0-10.
However points from Andy O'Brien and Jonathan O'Neill levelled the contest and Connors hit Wicklow's late goal after Derry's Liam Hinphey was sent off.
Down qualify directly for the semi-finals in two weeks with Derry involved in a quarter-final clash next weekend.
Meath looked set to head directly to the semi-final as they hit the opening seve scores including Kenny's goal.
But Conor Mageean's goal gave Down hope as they reduced Meath's lead to five points [1-11 to 1-6] at the interval.
Both teams were down to 14 men by the interval after Down full-back Hughes and Meath full-forward Heavey had received straight red cards following an altercation.
Down dominated the second half as they outscored Meath 1-17 to 0-8.
The Mournemen cut steadily into Meath's lead and Caolan Bailie's points levelled the contest midway through the second half.
Bailie had been introduced as a replacement for Danny Toner who had to be taken to hospital with a serious looking ankle injury.
Two Michael Turley points edged Downclear and Paul Braniff's late penalty, which brought his tally up to 1-6, helped Gerard Monan's side complete a deserved victory.
The foundations for Down's second-half dominance were laid by superb display by half-backs Fintan Conway, Conor Woods and Michael Cunningham.
SATURDAY GAA RESULTS
Christy Ring Cup
Wicklow 1-18 2-11 Derry
Down 2-23 1-19 Meath
Kildare 2-21 1-16 Kerry
London 2-15 3-10 Mayo
Nicky Rackard Cup
Armagh 0-8 1-20 Sligo
Monaghan 0-15 1-16 Donegal
Lory Meagher Cup
Leitrim 1-10 2-14 Warwickshire