Heineken Cup: Ulster the perfect fit for Ruan Pienaar
By Orla Bannon
BBC Sport NI
Last updated on .From the section Northern Ireland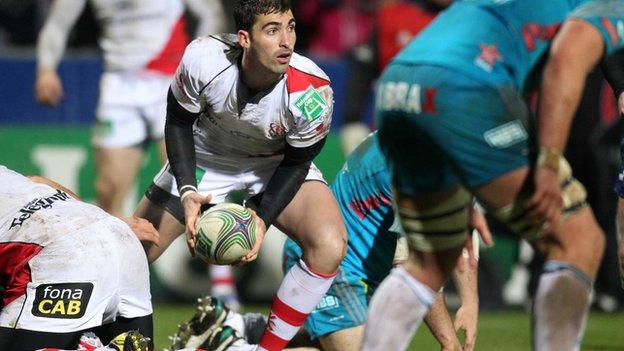 Eyebrows were raised when Ruan Pienaar signed for Ulster but he has found it a natural home, both on and off the field.
The opportunity to experience life in a different country and sample the delights of the Heineken Cup were some of the reasons why he decided to leave South Africa and head for the northern hemisphere.
He had choices. David Humphreys persuaded the 28-year-old that Ulster was the perfect fit for him and his family and put the deal in place, and Pienaar has not looked back.
''I have never regretted it for a second,'' he said.
''I really enjoy the place and have made some good friends. To watch how this team has grown has been special for me and it's exciting to be a part of.''
Ulster were an under-performing, unsuccessful outfit when Pienaar arrived as one of the South African imports. He scored all 19 points against Glasgow on his debut in October 2010 but the first few months were a little rocky as he tried to find his rhythm.
Installed in his favourite scrum-half position, it all started to come right in the latter months of the season. Dramatic stoppage-time penalties and drop-goals were almost weekly occurrences in the Magners League as he almost single-handedly took Ulster to the semi-finals.
No surprise, then, when he was named as the Magners League Player of the Year such was his influence on that competition.
This season, the aura of the Springboks has grown even further.
Their influence on the team is immeasurable and the arrival of All Black World Cup winner John Afoa before Christmas has led Ulster's critics to point the finger and say "it's all about the foreign players''.
Pienaar seems shocked when the accusation is put to him. Modest as well as talented.
''I have never heard anyone say that,'' he insists.
''It takes 23 players in a squad on any given day to do something special.
''Everyone, from the management right down to the individual players, has worked very hard to get here.
''You can't single anyone out. And anyway, we are well aware that we haven't achieved anything yet. We still have a lot of hard work to do.''
It's obvious that for a man like Pienaar, who won the World Cup in 2007 and has been capped 51 times for his country, getting to a Heineken Cup final is not enough.
Yet irrespective of what happens against Leinster on Saturday, Ulster's presence in the final ahead of schedule is a validation of the decision he made to come to Belfast in the first place.
He had faith in that decision months ago, long before the team embarked on this dizzy run, when he signed a two-year contract extension.
Paddy Wallace hopes Pienaar and the South Africans are here to stay. He accepts that without them, Ulster would not be in the place they are now, and having soldiered through so many barren seasons, who can blame him for revelling in the success.
''There's that debate on whether the foreign influence has taken away from the Irish team but I certainly don't think so,'' said Wallace.
"Take those players out of our team and Ulster aren't competitive in Europe.
''As a result, I wouldn't be as confident a player because I'm not winning games. It has different knock-on effects. I believe it can only be beneficial to us."
Pienaar has notched up 71 points already in the Heineken Cup this season and was named man of the match in the semi-final victory over Edinburgh.
It is no surprise that he has been included on the ERC's shortlist for the prestigious Player of the Year accolade, along with a home-grown and equally important talent, Stephen Ferris.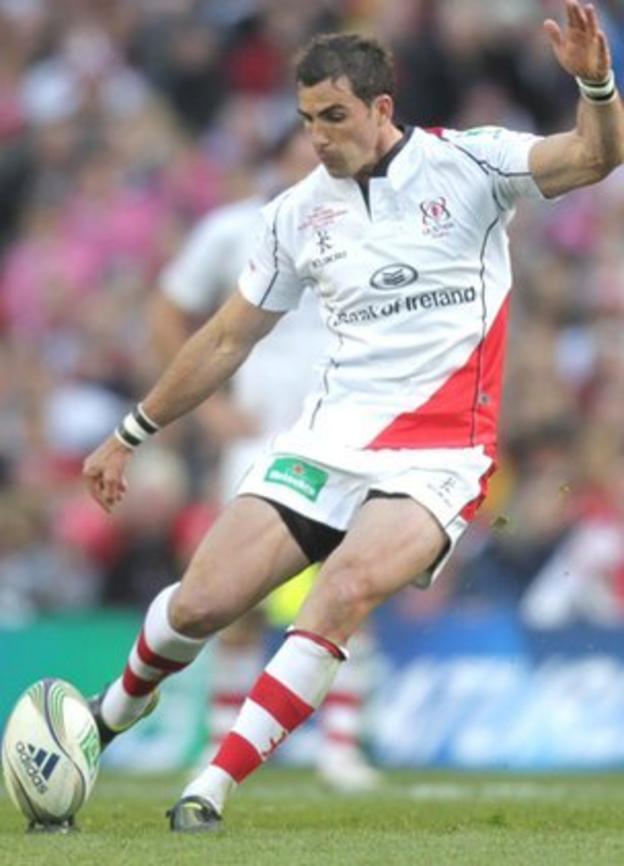 But Pienaar is the man who has to knock the kicks over. He has seen Ian Humphreys replaced by a young rookie, Paddy Jackson, outside him yet he still proves to be the man with the big match temperament.
The bigger the occasion, the better he seems to play.
''I do get nervous before big games,'' admits the 28-year-old.
''As I've got older I've learned how to handle it. I try to enjoy the occasion now.
''This game is going to be right up there with anything I've played in before but this is why we play rugby, to play in occasions like this.
''I've played in Twickenham before with South Africa but I've never played a club game in front of 82,000 fans and the noise and the colour they will bring will be amazing.''
He is unconcerned about Ulster's poor record gainst Leinster.
To upset the overwhelming odds against them, he believes they must play the game on their terms.
''We showed our status as a solid defensive unit in the last two games and scrambled well, but apart from the first 20 minutes against Munster we have not had our hands on much ball,'' he explained.
''We can't really afford to do that against Leinster.
''They have world class players and dangerous backs so it would be a mistake to let them have the ball for 80 minutes, which is more or less what happened against Edinburgh.
''Leinster are a top-class side. The challenge could not be greater.''
It's a challenge that Pienaar and friends are capable of meeting.