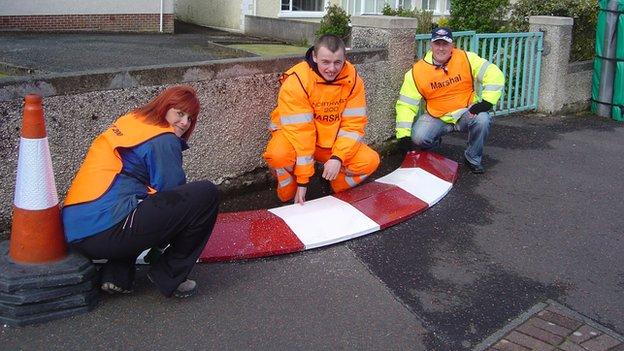 BBC Radio Ulster newsreader Keith Burnside is one of hundreds of volunteers who help to make the North-West 200 the sporting event that it is - Ireland's most famous road race.
Keith's "ham radio" skills as he dubs them, provides crucial emergency contact with medical teams and first aiders placed all over the circuit.
But there are volunteers in many roles at the North West event.
Some work throughout the year, others during race week itself.
The men and women of all ages come from such organisations as RAYNET -[the radio amateur's emergency network], British Red Cross, St John Ambulance, and the Marshals Association.
Also involved are doctors, paramedics, fire personnel and administrative staff.
Not only do the volunteers look after the riders but they also have the responsibility of the thousands of spectators who line the 8.97 mile circuit.
The volunteers, all of whom give of their time for nothing, also look after the needs of local residents who, once the roads are closed, are provided by an emergency 999 service by the race organisers.
Cathal Cunning is the chief marshall for the event and it's a job he had been doing for the last seven years.
He too is a volunteer and has been involved with the North-West 200, like many of his colleagues, for decades.
Over 800 volunteers will be part of this year's race-week.
A 100 of them will have spent six weeks before the event setting up the course. That involves unloading sixty 40-foot trucks with safety bales, security fences, signs and everything that adds to the safety of the riders and spectators alike.
It takes a further two weeks to strip down the circuit after the event.
For the chief marshal it's a family affair as his brother Liam is his assistant chief marshal.
Another brother, Brian is a zone marshal and their father, who is 72, is a member of the team of marshals who look after the grid.
Cathal as chief marshal is always looking for volunteers, especially those in the 18-25 age range.
Now, as he gets into full swing for this year's event, he is extremely grateful to his teams of volunteers, for their help and dedication that they give to the event.
"If they did not volunteer, it would cost the organisers millions of pounds which is not to hand at the moment."