Alastair Seeley and Ryan Farquhar earn North West 200 wins
Last updated on .From the section Northern Ireland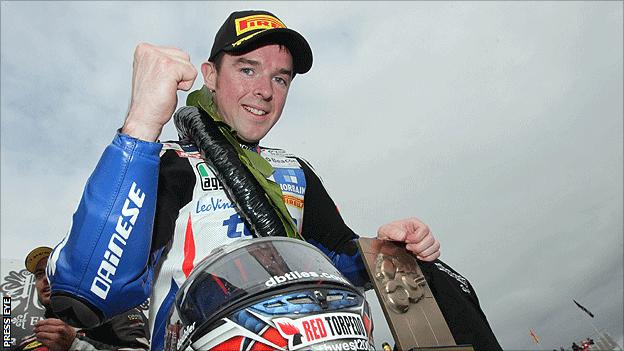 Alastair Seeley and Ryan Farquhar clinched home wins as Thursday night racing took place for the first time in the modern era at the North West 200.
Carrickfergus man Seeley had over 22 seconds to spare from Fermanagh native Lee Johnston in the Superstock race with Cameron Donald taking third place.
Dungannon man Farquhar then led home a one-two-three for his own KMR Kawasaki team in the Supertwins race.
Forty-eight year-old Jeremy McWilliams was second with Michael Rutter third.
Farquhar's win ended his seven-year wait for a North West victory as he claimed his fourth career victory at the meeting.
"I have dreamt of this for a long time. I have been developing these supertwins for four years. You cannot get better than a 1-2-3. The pressure is off now," said Farquhar after his victory.
Tyco Suzuki rider Seeley never looked like being caught in the Superstock event as he stormed into a commanding lead over Farquhar on the first lap.
With Bruce Anstey among the earlier retirements, Seeley continued to put further daylight between him and his rivals.
"I didn't think it would be that be that easy. It is a great win for the team," said Seeley.
"The tyres were awesome. The track has dried out.
"I am well happy, a great job. The first one is out of the way."
Hull-based Fermanagh man Johnston was "thrilled" with his runner-up finish after producing a fine ride.
Farquhar was fourth with Italian Stefano Bonetti in fifth amid some initial confusion over the placings.
Immediately after the race, the race timings indicated that Bonetti had finished third but these were quickly changed as Australian Donald was correctly given the final podium place.
Superstock result: 1 Alastair Seeley 29:00.810 2 Lee Johnston 22.511 behind; 3 Cameron Donald at 24.226; 4 Ryan Farquhar at 24.311; 5 Stefano Bonetti at 24.667; 6 James Hillier at 35.386.
Supertwins result: 1 Ryan Farquhar; 2 Jeremy McWilliams 2.940 behind; 3 Michael Rutter at 3.554; 4 James Hillier at 4.270; 5 Adrian Archibald at 4.568; 6 Jamie Hamilton 32.497