Alastair Seeley races to double at North West 200
Last updated on .From the section Northern Ireland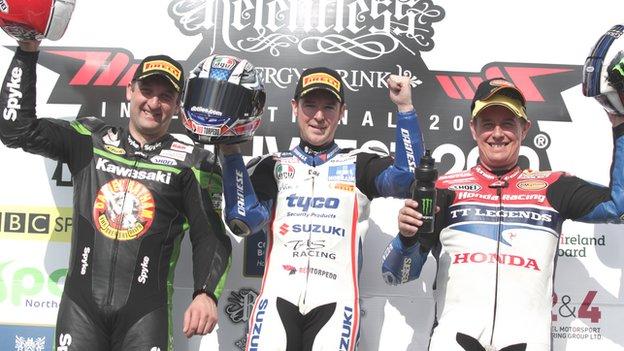 Alastair Seeley won the feature Superbike race to complete a double at the North West 200 on Saturday.
The Carrickfergus rider also won the second Supersport race on a Tyco Suzuki to go with three second-place finishes.
Michael Rutter joined Joey Dunlop on 13 wins at the North West after victory in the Superstock race.
Ballymoney's William Dunlop won the opening Supersport race while John McGuinness earned his sixth NW 200 victory in the first Superbike race.
There was a tragic accident in the third race of the day, the Superstock.
Scottish rider Mark Buckley, of the Splitlath Redmond Racing team, died in hospital shortly after crashing near the Mill Road roundabout section of the course.
Seeley won the final two races of the day after a frustrating afternoon in the sunshine on the north coast.
"The way the day was going I didn't think I was going to get any - second, second, second," he said.
"It is a dream come true - I did my homework and I just had to wait a while for it."
Seeley came in ahead of Rutter and McGuinness in the feature race after edging out William Dunlop in an exciting second Supersport race.
An unhappy Dunlop said Seeley "nearly put me into a wall" in an overtaking move on the final lap.
British Supersport champion Seeley also won Thursday's Superstock race to make it three victories at the meeting.
Dunlop's win in the opening Supersport race was the first for the Wilson Craig Honda team.
"It is Wilson's first win - that is why I wanted to get it," he said.
Rutter is now the joint second most successful rider at the North West and sits two behind the late Robert Dunlop.
But his win from the second wave did not please Hector Neill of Tyco Suzuki, after team rider Seeley was forced to settle for second place.
"I'm strongly against this winning from the second wave - it is a stupid rule and not fair on the public," he said.
Morecambe man McGuinness won the opening Superbike race with Seeley second and Australian Cameron Donald in third.
Seeley was on pole but an overshoot at Church Corner ultimately cost the Carrickfergus rider a win as McGuinness eased to victory.
Results
Supersport (1)
1. William Dunlop (115.239 mph)
2. Alastair Seeley (114.965)
3. John McGuinness (114.851)
Superbike (1)
1. John McGuinness (119.883)
2. Alastair Seeley (119.571)
3. Cameron Donald (118.571)
Superstock
1. Michael Rutter (118.950)
2. Alastair Seeley (118.440)
3. James Hillier (118.333)
Supersport (2)
1. Alastair Seeley (115.397)
2. William Dunlop (115.304)
3. Bruce Anstey (10.550)
Superbike (2)
1. Alastair Seeley (121.352)
2. Michael Rutter (121.235)
3. John McGuinness (121.106)