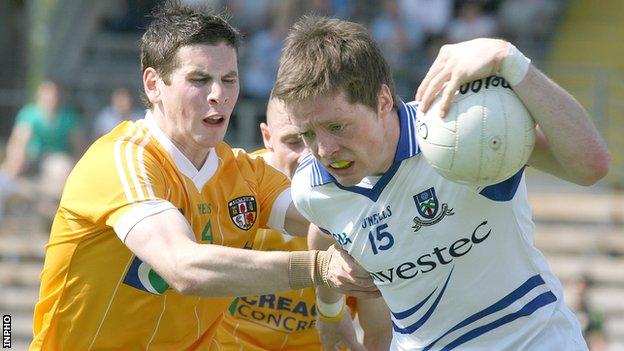 Monaghan produced a late rally to edge out Antrim in the Ulster Football Championship clash at a sweltering St Tiernach's Park.
Karl O'Connell struck Monaghan's goal after only 27 seconds and it helped them lead 1-4 to 0-5 at half-time.
However, Antrim hit back after half-time and James Loughrey's goal helped the Saffrons take a three-point lead.
But Monaghan outscored the Saffrons 0-7 to 0-1 in the final 20 minutes with sub Tommy Freeman contributing two points.
With the temperatures at 27 degrees centigrade at the throw-in, the Farney men made the perfect possible start as O'Connell waltzed infield past three tackles and rifled to the net after Chris Kerr had blocked his initial shot.
The Saffrons, aided by the wind in the first period, attempted to fight back by firing in a series of high balls into the Monaghan square but Colin Walshe had the measure of big Saffron full-forward Micheal Magill in the opening stages.
Paddy Cunningham opened Antrim's account from a free in the 11th minute only for Paul Finlay to quickly respond in kind for the home side.
However, Farney captain Finlay soon had to depart after suffering a shoulder injury.
A Cunningham free and a fine Owen Lennon point maintained Monaghan's three-point advantage by the 24th minute.
The football improved in the 10 minutes before half-time as both teams knocked over some fine scores.
Michael McCann pointed from play after good work by Loughrey and Magill then knocked over another superb Saffron point as he finally escaped Walshe's shackles.
But Monaghan had the better of the final six minutes of action as two points from Finlay's replacement Kieran Hughes were followed by another Cunningham effort from play.
After a scrappy start to the second period, Dick Clerkin extended Monaghan's lead to three with a fine wind-assisted effort but Aodhan Gallagher quickly replied for the Saffrons.
The Saffrons then took the lead as a charging Loughrey curled in a glorious goal to the roof of the net in the 45th minute after Magill's lay-off.
Their morale boosted, Antrim quickly tagged on two more superb points from play with Michael McCann and Mark McAleese on target and the Saffrons looked the likely winners at this stage.
McManus got a badly needed response after Johnston had fouled Hughes and sub Freeman heralded his introduction as he knocked over a towering effort to leave the minimum between the sides.
As Monaghan's revival continued, Clerkin fisted them level although it probably should have been a goal as Kieran Hughes was totally unmarked outside the small square.
Freeman's cameo continued as he swung over another Monaghan point but Cunningham levelled the contest with 10 minutes left.
Dessie Mone ended a passage of Monaghan keep-ball by running upfield to restore his side's advantage five minutes from time.
McManus missed a chance to double Monaghan's lead three minutes from time with a bad free miss from 40 metres but substitute Pete Dooney did the Farney needful with a glorious finish from the right foot from near the right sideline.
Monaghan retained possession in injury-time and Freeman won a free which McManus pointed in the final act.
Monaghan: M Keogh, D Morgan, V Corey, C Walshe, K O'Connell, D Mone, K Duffy, O Lennon, D Clerkin, M McKenna, S Gollogly, J Turley, C McGuinness, P Finlay (cpt), C McManus.
Antrim: C Kerr, A Healey, R Johnston, K O'Boyle, T Scullion, J Crozier, J Loughery, M McCann, A Gallagher, C Murray, M Sweeney, M McAleese, P Cunningham, M Magill, T McCann.
Monaghan scorers: O'Connell 1-0, Finlay 0-1, Lennon 0-1, Hughes 0-2, Clerkin 0-2, McManus 0-2, Freeman 0-2, Mone 0-1, Dooney 0-1
Antrim scorers: Loughrey 1-0, Cunningham 0-4, McCann 0-2, Magill 0-1, Gallagher 0-1, McAleese 0-1
OTHER CHAMPIONSHIP RESULTS
Munster SFC quarter-final
Tipperary 0-10 0-16 Kerry
Leinster SFC first round
Meath 0-16 0-11 Wicklow
Munster SHC quarter-final
Tipperary 2-20 1-19 Limerick