Fermanagh captain Ryan McCluskey out for 10 to 12 weeks.
Last updated on .From the section Northern Ireland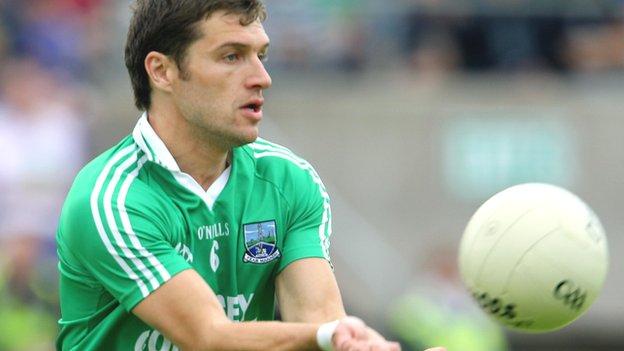 Fermanagh captain Ryan McCluskey is likely to be ruled out for at least 10 weeks after sustaining a sinus cavity fracture in an accidental collision.
McCluskey was seen by a specialist in Derry on Tuesday where he received bad news about the extent of the injury.
The defender had been hoping that he might be available for a possible Ulster semi-final on 24 June.
First up, McCluskey will miss Fermanagh's Ulster clash against Down on 3 June.
The defender sustained a depressed fracture of the sinus cavity in an accidental collision.
After seeing the specialist at Altnagelvin Hospital on Tuesday, McCluskey was told that he would require a further CT scan in the coming days.
McCluskey, a former Irish League soccer player, looks certain to miss all of the Ulster Championship and could also be ruled out of Fermanagh's opening qualifiers if the county if forced to go down the backdoor route.
Down lost their skipper Benny Coulter to injury and Ambrose Rogers will captain the team at Brewster Park.
Former All Star Coulter broke an ankle in a club game last month.
McCluskey was playing soccer for Dungannon Swifts last year and missed Fermanagh's miserable championship campaign which included a shock defeat to London.
He returned this year and helped the Ernemen to promotion from NFL Division Four.
Fermanagh manager Peter Canavan told BBC Sport that McCluskey had received the injury in an "innocuous" challenge in training.
"We were doing a drill and there was an accidental clash with another player," said Canavan.
"He was badly shaken and taken straight to casualty.
"He went down straight away and was in a lot of pain."
Canavan added that McCluskey has "been a very good captain and an inspirational leader".
Vice-captain Barry Owens will be handed the captaincy for the Ulster quarter-final against Down on 3 June.
"Barry is a very able replacement and he's going to step into that breach now."