Rory McIlroy says his loss of form is 'a shock'
Last updated on .From the section Golf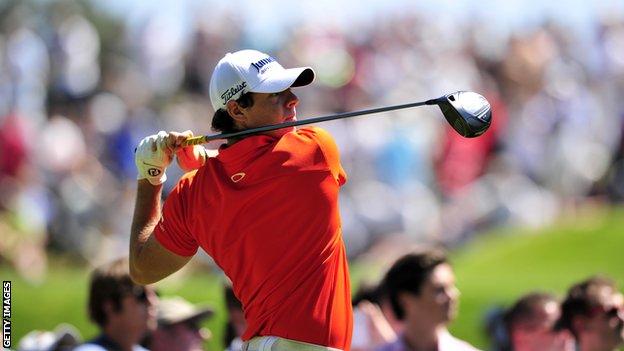 Rory McIlroy hopes to recapture his best form ahead of his US Open defence.
The world number two is working hard on his swing in a bid to shake off a loss of form ahead of his US Open defence.
McIlroy is spending quality time with his coach Michael Bannon in Ohio this week after missing the cut at his last two tournaments.
"It's more of a shock than anything else, just a little bit surprising, and it's something I haven't really had to deal with in a while," said McIlroy.
Traditionally, McIlroy does not like to play the week before a major.
However he is bucking that trend by playing at the FedEx St Jude Classic next week ahead of his US Open defence at the Olympic Club, San Francisco on 14-17 June.
"These two-day weeks aren't really that good for me, so I just want to get some competitive rounds in," he said.
"I'm working on a few things, and I feel trying to put them into competition will be the best way for me to prepare going into the US Open."
The Holywood golfer made a strong start to the season which included one win and top-five finishes in his first seven starts.
After missing a second successive cut at Wentworth last weekend, he flew to the United States with his coach Bannon on Monday night and the two have been able to spend quality time together on the range for the first time this year.
"We'd always have a practice session and we'd go inside and we'd look at my swing and just look at the lines and make sure everything is OK," McIlroy said.
"I said to him [Bannon] that I felt like I haven't really seen my swing that much this year. So we sat in his hotel room last night and went through a few swings from the past, from recent weeks, from yesterday, and just going through what's different and what needs to be corrected.
"We've identified what it is, and it's just a matter of putting in the time on the range and trying to tease it back into the positions that I want it to be."
McIlroy said he saw some encouraging signs in Wednesday's pro-am ahead of the Memorial Tournament which starts on Thursday.
"Everyone goes through this, where they just don't feel that comfortable with their game," McIlroy said.
"But you know, when you've been on a run where you've hardly finished outside the top five and then all of a sudden two missed cuts, it's more of a shock than anything else.
"I just have to knuckle down and figure it out and get back to the way I was at the start of the year."