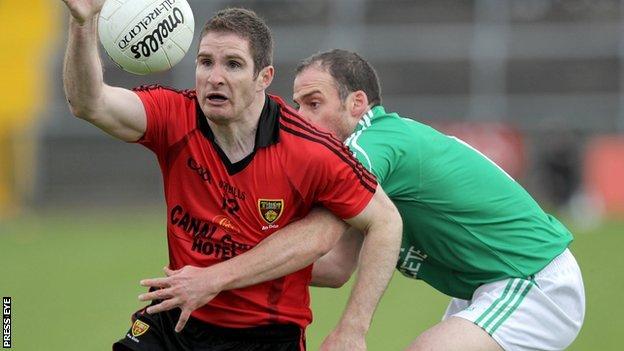 Peter Canavan's first match as a Championship manager ended in defeat as domiant Down swept aside Fermanagh.
Fermanagh had Daryl Keenan sent-off early on and then a goal by Donal O'Hare helped Down establish a handy 1-6 to 0-3 half-time advantage.
The lead was cut to just three points when Fermanagh's Daimen Kelly netted after a quick free-kick move.
But Down hit back with a goal by Conor Laverty and they cruised through to a semi-final clash against Monaghan.
In the end, Fermanagh's National League resurgence under new manager Canavan was not enough to make them Ulster contenders.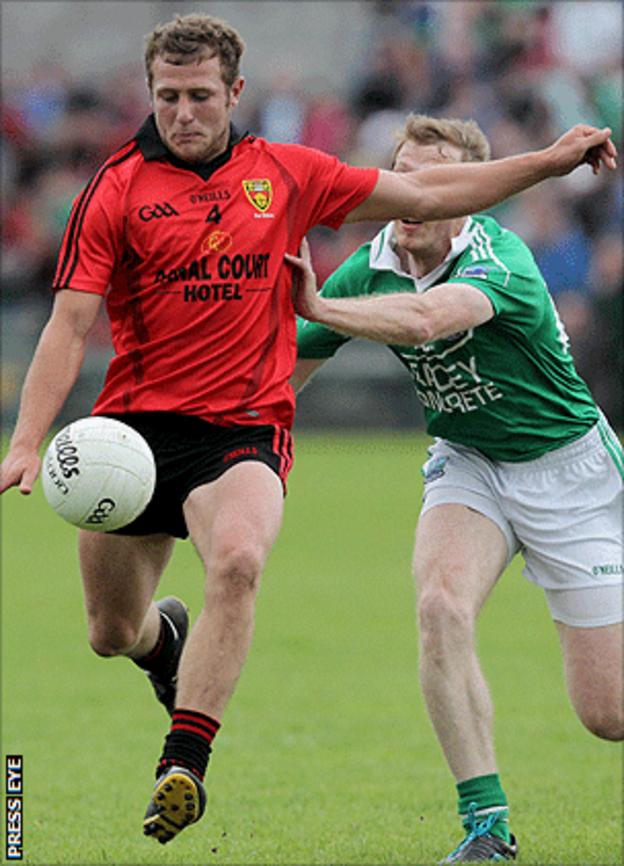 Division One Down were on top for virtually the whole game and the Mourne county fans will be eyeing a first provincial title for 18 years.
To be blunt, the first half was one Fermanagh supporters will be keen to forget as they saw their side score just one point in the opening 34 minutes - and that was a Daniel Kille free.
Before that happened, the Erne county were reduced to 14 men as half-forward Keenan was shown a straight red card by referee Syl Doyle after an umpire spotted an off-the-ball incident which left Down's Laverty on the ground.
Full-foward O'Hare, a late replacement in the Down line-up, got the opening point of the game in the 13th minute and the visitors should have been further ahead as Carr uncharacteristically squandered two inviting frees.
Kille's long-range free brought Fermanagh level but for the rest of the half they weren't in it.
Down's Aiden Branagan looked to be set for a goal but goalkeeper Ronan Gallagher pulled off a superb save.
That, however, was no more than a temporary reprieve for Peter Canavan's men.
Ambrose Rodgers restored Down's lead with a point from play and then O'Hare got the goal for a 1-2 to 0-1 scoreline, punishing Fermanagh for failing to clear a high ball.
O'Hare blasted into the net from close-range after Carr had neatly flicked the ball up to him with his foot while lying on the ground.
Kevin McKernan then capped a fine Down move with a point, Carr slotted over an easy free and Conor McGinn and full-back Brendan McArdle added to the tally.
Fermanagh defender Damien Kelly and Kille got points just before the break but Down looked in interval command at 1-06 to three points.
The gap remained at six points as Kalum King's score for Down was natched by another Kille free.
However, Fermanagh got themselves right back into contention with a goal in the 46th minute.
Down's defence was caught sleeping when a free was given against them. Eamon Maguire took it quickly, feeding Kelly who coolly found the net and suddenly it was a three-point game.
Fermanagh needed to kick on from that, but the goal was to prove no more than a blip for Down who re-established their superiority.
Daniel McCartan and Kevin Duffin added points from play and then Laverty snapped up Down's second goal on 57 minutes.
Laverty won possession and got past keeper Gallagher and kept his head to find the net despite the efforts of two diving defenders.
Down's entire full-back line got on the scoresheet, as Darren O'Hagan advanced to score from play.
Seamus Quigley, dropped from the original team announced by Fermanagh, came on as a substitute and landed two frees while Paul Walsh and Tomas Corrigan also boosted the home score.
Fermanagh scorers: Kille 0-3, Kelly 1-1, S Quigley 0-2, Ward 0-1, Corrigan 0-1
Down scorers: O'Hare 1-1, Rogers 0-1, McKernan 0-1, Carr 0-1, Maginn 0-1, McArdle 0-1, King 0-1, McCartan 0-1, Duffin 0-1, Laverty 1-0, O'Hagan 0-1