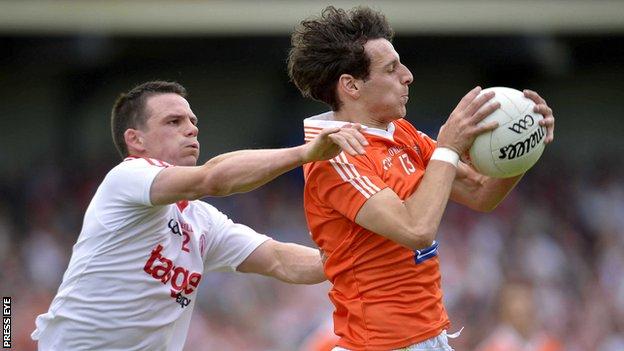 Tyrone held off a strong challenge from Armagh as the Ulster Football Championship finally came to life.
In a wonderfully open first half, Aidan Forker's goal gave Armagh an early lead but the Red Hands fought back to lead 0-11 to 1-5 at the interval.
Despite Kevin Dyas' 56th-minute sending-off, Armagh chipped away at Tyrone's lead and the Orchard men levelled by the 66th minute.
However, Tyrone hit four of the last five scores to edge the verdict.
The absence of sweepers and extra defenders as the players took their positions at the start led to the tantalising prospect of an open contest at the Athletic Grounds and so it proved during a terrific first half.
Brian Mallon and Joe McMahon knocked over immediate frees at either end before Pascal McConnell made a superb save to stop a goalbound Mallon shot.
From the rebound, Armagh had a penalty shout as Dermot Carlin appeared to push Jamie Clarke but referee Joe McQuillan waved aside the Orchard claims.
However after Colm Cavanagh nudged Tyrone ahead from play, Armagh did rattle the net as Aidan Forker produced a delightfully composed finish after a superb flowing move involving Malachy Macken, Kevin Dyas and Caolan Rafferty.
Unruffled, Tyrone responded to level thanks to quickfire points from Cavanagh and Owen Mulligan.
Clarke's first score restored Armagh's lead in the 13th minute but Tyrone were starting to gain an edge and unanswered points from Martin Penrose, Peter Harte and Mulligan edged them two ahead.
Armagh responded with Clarke producing a glorious score from a tight angle but a minute later, Stephen O'Neill responded in kind with an equally adept finish with his weaker right foot after a delightful dummy.
The home side were on terms by the 25th minute as a point by the impressive Dyas was followed by a Forker free.
However, Tyrone hit the last three scores of the opening period to lead by three as Mark Donnelly and Penrose efforts were followed by a Dermot Carlin point after the corner-back sortied upfield.
With the injured pair Aaron Kernan and Justin McMahon having to be replaced at the break, Penrose hit the first score after the restart to increase Tyrone's lead to four.
There was a suspicion that Tyrone might be set to pull away but not a bit of it as Armagh hit four of the next five scores to cut Tyrone's lead to one after 48 minutes.
Despite Aidan McCrory's best efforts, Clarke was proving virtually unmarkable in opening play as he showed with his glorious 44th-minute score.
Sub Gavin McParland, on for the injured Kernan at half-time, superbly swung over Armagh's next two scores as they cut Tyrone's advantage to the minimum.
However, crucially, Tyrone notched the next score as Stephen O'Neill's direct running yielded a free which Penrose slotted to give the Red Hands crucial breathing space after Armagh's previous 10 minutes of dominance.
O'Neill looked set to rattle the Armagh net three minutes as he gathered a high ball from Sean O'Neill but while he lost his footing, Penrose was still able to swing over another Red Hand point.
Then followed a seemingly disastrous blow for Armagh in the 56th minute as Dyas received his marching orders after a high but not dangerous challenge on Harte resulted in his second yellow card.
However, Clarke gave the home side hope with a 13-metre free after Joe McMahon, now operating at full-back, had been booked for fouling Armagh sub John Kingham.
There was only one between them as Mallon bravely slotted a free from 40 metres and the corner-forward magnificently repeated the dose with a 55-yard free with four minutes of normal time left to level the contest.
But with their backs to the wall, Harte stormed upfield to slot a magnificent score from a tight angle to restore Tyrone's lead a minute later.
Within a minute, Tyrone's lead was two again Penrose slotted his seventh point after sub Niall McKenna had been fouled.
Tyrone had been asked searching questions and they were further answered as the magnificent Stephen O'Neill knocked over another towering effort in the first minute of injury-time.
Clarke swung over a point in response but Armagh couldn't fashion the goal chance that they needed and Penrose knocked over his eighth with the last kick of the game.
Armagh: P McEvoy; A Mallon, B Donaghy, D McKenna; A Kernan, C McKeever, F Moriarty; K Toner, M Machin; A Forker, K Dyas, A Duffy; J Clarke, B Mallon, C Rafferty.
Tyrone: P McConnell; A McCrory, Justin McMahon, D Carlin; C McCarron, C Gormley, Sean O'Neill; Joe McMahon, C Cavanagh; R McNabb, Mark Donnelly, P Harte; M Penrose, Stephen O'Neill [cpt], O Mulligan.
SUNDAY'S OTHER FOOTBALL CHAMPIONSHIP RESULTS
Munster SFC semi-final
Cork 0-17 0-12 Kerry
Leinster SFC quarter-finals
Carlow 1-12 1-12 Meath
Wexford 1-13 0-15 Longford