Derry boss John Brennan criticises clubs over injuries
Last updated on .From the section Northern Ireland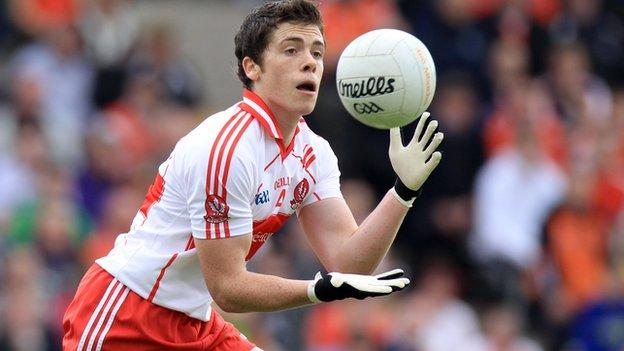 Derry boss John Brennan has hit out at clubs in the county after Dermot McBride was ruled out of the Ulster SFC quarter-final against Donegal.
Brennan said McBride played two games in 72 hours for Ballinascreen against the wishes of the Derry team doctor.
The Oak Leaf boss also criticised Glenuillin after key forward Eoin Bradley was injured in a club match.
Bradley is rated doubtful for the 16 June clash with Donegal but Cailean O'Boyle is out due to a torn hamstring.
The good news is that captain Gerard O'Kane should be fit for the match in Ballybofey.
Brennan believes the clubs were wrong in fielding McBride and Bradley.
"Dermot hadn't played football since the McKenna Cup - he came back and started to play club football.
"But the powers that be around his club decided to play two games in 72 hours against the wishes of our team doctor.
"The result is Dermot will not be there next week. That is an unprofessional and selfish attitude.
"I was annoyed, as was our doctor, and we've spoken strongly about it.
"Eoin Bradley should not have been playing club football - his rehab is not right."