Isle of Man TT: Senior race off as Farquhar wins Supertwins
Last updated on .From the section Northern Ireland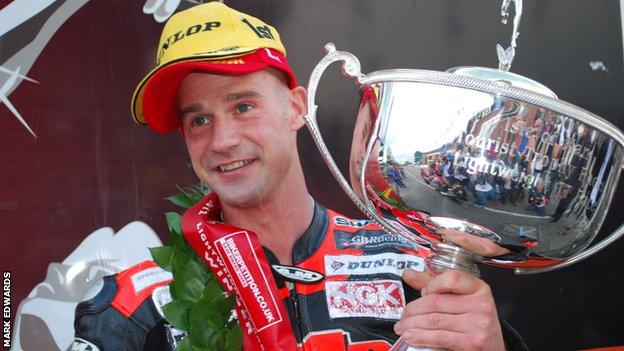 Ryan Farquhar earned his first Isle of Man TT win since 2005 as he triumphed in the closing lightweight Supertwins event at the weather-affected event.
More bad weather on Saturday meant that the Senior race had to be cancelled for the first time in the event's history.
However, the inaugural Supertwins race was run over three laps as Farquhar finished 29 seconds ahead of English rider James Hillier.
Farquhar's KMR Kawasaki team-mate Michael Rutter completed the podium.
Rutter set the fastest lap on the closing circuit with a 115.55mph clocking as he finished five seconds behind Hillier with Cameron Donald, Russ Mountford and William Dunlop completing the top six.
Farquhar's victory was his third Isle of Man TT win and his first since his Supersport victory in 2005.
The Dungannon man confirmed his pre-race favouritism as he pulled out a 14-second lead over Hillier by the end of lap one.
The 36-year-old extended his advantage to 17 seconds after lap two and increased his lead on the final circuit.
"This is unreal," said a delighted Farquhar after the race.
"I've worked so hard for this over the last four years, building the bikes and promoting the class.
"There were a few damp patches but I was probably a bit over-cautious on the first lap.
"The race went exactly to plan and the wee bike never missed a beat. It's a great way to end the week."
Earlier, the Senior race had to be cancelled for the first time since the TT races began in 1907.
The decision was announced by rider liaison officer John Barton shortly after riders including 19-time winner John McGuinness and Conor Cummins completed a course inspection with the Clerk of the Course.
Meanwhile, the Manx Telecom Post TT Road Races at Billown, which were scheduled for Saturday, have been postponed until Sunday.
Roads around the Billown Course will now close between 13:30 BST until 18:00 BST.