Dungannon's Ryan Farquhar favourite for TT Supertwins glory
By Richard Petrie
At the Isle of Man TT
Last updated on .From the section Northern Ireland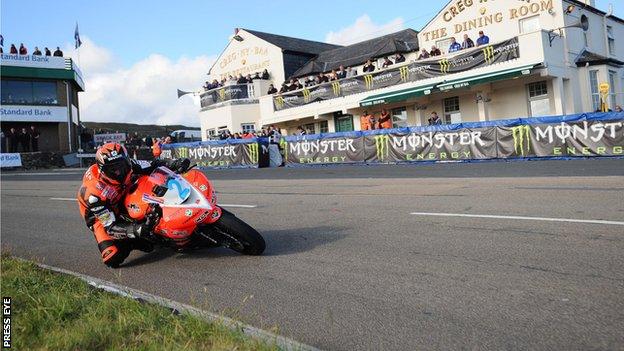 Ryan Farquhar will have to wait a further day for the opportunity to end his seven-year spell without a win at the Isle of Man TT.
Persistent rain and mist combined to thwart efforts to stage the Lightweight Supertwins and Senior TT races on Friday and it is now hoped that the races will go ahead on Saturday.
The Dungannon rider is favourite for the Supertwins and appears unconcerned about the postponement.
"It's just one of those things - there's nothing you can do about the weather. The track is not fit to race on at present.
"I am not putting any pressure on myself, I will just take it as steady as I can and hopefully that bit of luck you need at the TT will be with me," said the KMR Kawaski rider.
"Although I would have liked to win the Superstock race, I was happy with a podium position and I surprised even myself by finishing third in the second Supersport event," added the 36-year-old.
Meanwhile Michael Dunlop will be fired up for the six-lap Senior TT, the blue riband event of the meeting.
The Ballymoney rider brought his career total of TT wins to three by winning Wednesday's Supersport race, but will reflect on other missed opportunities.
The younger of the Dunlop brothers retired while enjoying a healthy lead in the first Supersport outing and a slow start potentially cost him victory in the Superstock class, where he had to settle for second behind John McGuinness.
The intensely driven 23-year-old was also forced to take out his Kawasaki Superstock in the Superbike race after encountering mechanical problems with his Honda Fireblade.
His decision to resist the overtures of the major teams in favour of running his own team with the support of his loyal sponsors may hinder his chances of a breakthrough in the showpiece Superbike races, but Dunlop remains determined and optimistic.
"We've worked hard on the Honda and got out for a practice lap on Wednesday so I'm hopeful that we can be there or thereabouts in the Senior. It is the race to win," stated Dunlop.
Brother William is not upbeat about his chances of success on the final day of racing on the Mountain Course.
"I was surprised to finish sixth in the Superbike race, I was hoping for the top 10, so I will just try my best on the big bike and see where it gets me."
Dunlop's third place in Supersport race one, allied with three second positions for his team-mate, Australian Cameron Donald, has made it a good TT for team owner Wilson Craig, a Londonderry businessman.
"Cameron has talked about retiring from the TT, and is still thinking about it, but I promised him that if he raced for me this year, the machinery I provided would be reliable and competitive," revealed Craig.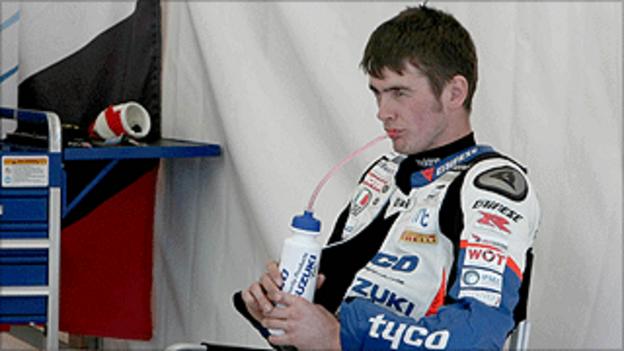 "That is the way it has turned out and he has really enjoyed his TT. He has been this year's 'Mr Consistency'."
Craig's Tyco TAS Suzuki counterpart Hector Neill is a much more ebullient character, but he has endured contrasting fortune at this year's event as the Moneymore-based outfit continue to chase their first rostrum place.
Tyre problems robbed their rider Guy Martin of a probable third-place finish in the Superbike TT and the Lincolnshire rider has looked somewhat out-of-sorts for much of race week.
Conor Cummins, the other rider in the TAS camp, has frustratingly had to sit out the action so far as he is recovering from a wrist injury.
However, the Manxman will be on the grid for the Senior race, in which he suffered extensive injuries in a crash two years ago.
John McGuinness will start as favourite for the Senior and a victory would take him to within six of Joey Dunlop's record of 26 TT wins.
"I won't make myself too popular with all the Joey fans if I get any closer," admitted McGuinness, who himself is a huge admirer of the Ballymoney road racing legend.
Bruce Anstey will challenge for his second TT win of the week, while Gary Johnson and Michael Rutter could also be in the mix for top-three places.