Mickey Harte says Paul Durcan save denied Tyrone replay
Last updated on .From the section Northern Ireland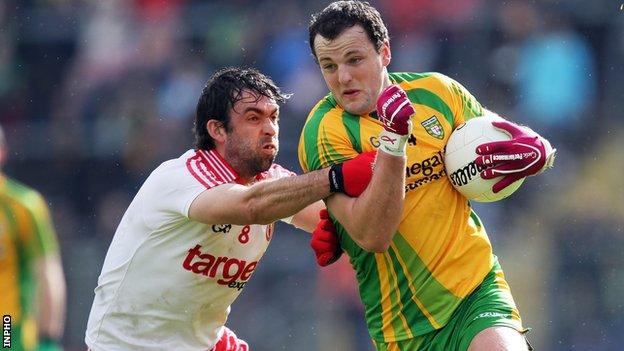 Mickey Harte believes a late save by Donegal keeper Paul Durcan denied Tyrone an Ulster semi-final replay.
Harte's men were three points down when Durcan diverted a Martin Penrose shot on to an upright in stoppage-time.
"Nine times out of 10 that would have been a goal. It was a magnificent save but Paul Durcan is well capable of that," Harte told Radio Ulster.
"But I am reasonably happy with the overall performance. We matched Donegal for long periods of the game."
Harte said the defeat was a setback but there was still a lot to play for.
"The players know that just a little bit more would have seen them in the final," he added.
"Doengal got a couple of good scores and we gifted them one and it is hard to get back from that in such a tight game.
"We needed a goal and we almost got it."
Meanwhile, Jim McGuinness looked forward to his team attempting to be the first in Donegal's history to retain the Ulster Championship.
"Tactically and physically it was very draining but the players have come through it.
"There are three weeks now for the players to look forward to an Ulster final and that is where the players want to be.
"This game could have gone either way. Tyrone were the best team in the first half and they were moving the ball very well.
"Slowly but surely we got to grips with the game and scored the points when it counted."