Derry manager John Brennan hits back at Paddy Bradley comments
Last updated on .From the section Northern Ireland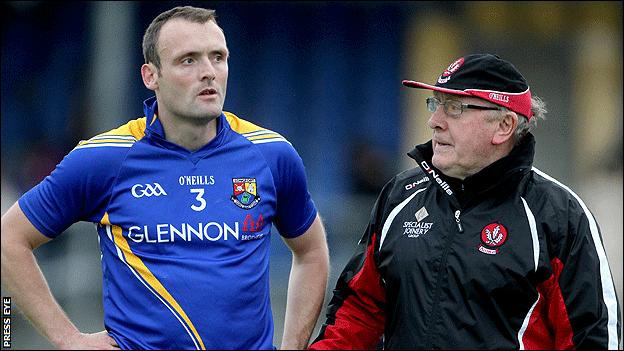 Derry boss John Brennan has delivered a stinging rebuke to star forward Paddy Bradley as the fall-out from the dismal Championship campaign continued.
Brennan rejected Bradley's claim that Derry's senior squad had been under-funded and criticised the player for airing his concerns in the media.
Bradley made his remarks on BBC Radio Ulster after Derry's defeat by Longford in the first round of the qualifiers.
Brennan said Bradley had committed the "cardinal sin of going to the media."
Former All Star Bradley had also claimed Derry had not prepared properly for the Championship and did not have enough players at training to hold 15-a-side practice matches.
He desbribed the three-point defeat by Longford as the lowest ebb of his 13-year senior county career.
In an Irish News article, the Oak Leaf county manager said Braldey should not have gone public with his concerns.
"There is an in-house rule in sport that you don't talk outside the four walls of the dressing room, but Paddy did not observe that," said Brennan.
"He committed the cardinal sin of going to the media and spouting out on whatever grievances he felt he had.
"Paddy should have made his feelings known to the team management and county board officers.
"As far as I am concerned, there was no lack of funding by the county board."
Brennan, who has been in charge of Derry for two years, said he had still to decide whether he wanted to stay at the helm for a third year.