Dunlop brothers Michael and William dominate at Walderstown
Last updated on .From the section Northern Ireland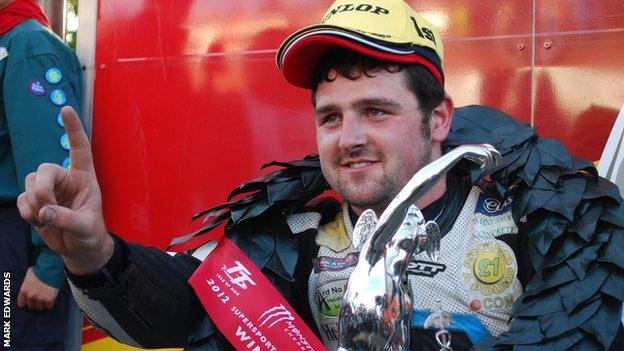 The Dunlop brothers Michael and William dominated Sunday's Walderstown Road Races near Athlone.
Michael, after his Southern 100 five-timer last week, won the Open and Grand Final events with William taking Supersport and 125 wins.
William was back in action earlier than expected after injuring his arm at the Skerries 100 a week earlier.
The two Dunlop brothers will be in action on home territory at next weekend's Armoy Road Races.
Michael pipped William by 4.2 seconds in Sunday's Grand Final race at Walderstown with Brian McCormack taking third.
Dunlop earned his second win of Sunday's meeting as he finished over six seconds ahead of John Burrows in the Open Race.
However, William won the battle of the Dunlops in the Supersport race as he came in 1.3 seconds ahead of his brother.
William finished ahead of Sam Wilson and Paul Robinson in the 125 event.
A mechanical problem on the problem prevented William from clinching a treble as Robinson went on to win the 250 race.