Grimley confirmed as new Armagh senior football manager
Last updated on .From the section Northern Ireland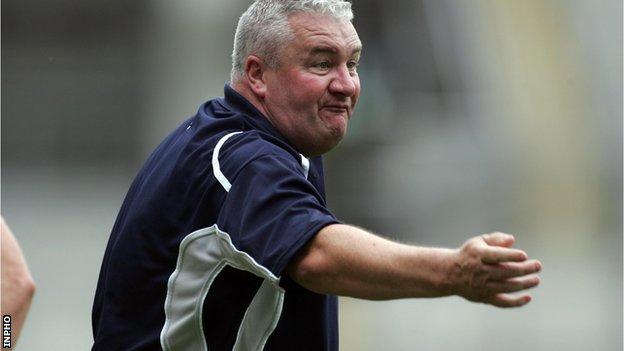 Paul Grimley has been confirmed as the new Armagh football manager after receiving the unanimous support of clubs in the county.
Grimley, who was assistant to former boss Paddy O'Rourke, was appointed after Thursday's county board meeting.
He was also assistant to Joe Kernan when he guided the county to the 2002 All-Ireland title.
Grimley joined O'Rourke's backroom team last September and is now promoted to the top job.
After leaving Kernan's Armagh management team in 2006, Grimley had backroom stints with Cavan, Kildare and Monaghan and Meath.
He has always been a number two, but has coveted the Armagh manager's position on at least one other occasion.
A communication breakdown between Grimley and the county board at the end of 2009 saw the Pearse Og clubman accept a coaching role with Monaghan while Paddy O'Rourke was appointed Armagh manager.
Joe Kernan and Tony McEntee ruled themselves out of the contention for the Armagh job earlier this month.
There was also speculation that Kildare boss Kieran McGeeney might be approached by the Armagh county board.
However, Grimley has indicated that he will undertake the job on a caretaker basis for one or two years until McGeeney or one of his 2002 All-Ireland winning team-mates is ready to take on the challenge.