Michael Dunlop clinches treble at Armoy road races
Last updated on .From the section Northern Ireland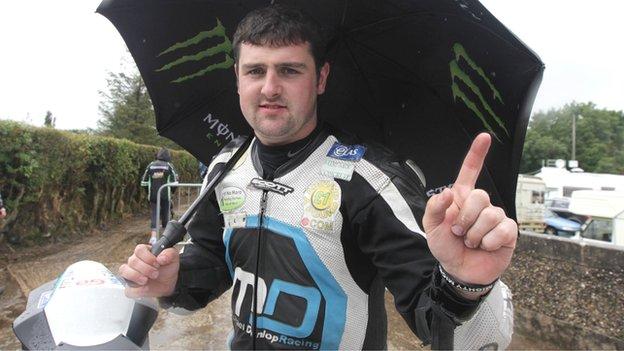 Michael Dunlop took three victories at the Armoy road races and set a new lap record for the course at 105.893mph.
The Ballymoney rider won the Open and Supersport 600cc races before success in the Grand Final completed a treble at the County Antrim circuit.
Dungannon's Ryan Farquhar secured victories in the Moto 450 and Supertwins classes.
William Dunlop, who was third in the Supersports, won the 250cc race while Sam Wilson was the 125cc winner.
Farquhar was also second in the Supersport 600 race and he was third, behind Englishman Guy Martin, in the Open race.
Armoy road race results
125cc - 1 Sam Wilson; 2 William Dunlop; 3 Paul Robinson
Supersport 600 - 1 Michael Dunlop; 2 Ryan Farquhar; 3 William Dunlop
Open race - 1 Michael Dunlop; 2 Guy Martin; 3 Ryan Farquhar
250cc - 1 William Dunlop; 2 Lee Vernon; 3 Paul Robinson
Supertwins - 1 Ryan Farquhar; 2 Adrian Archibald; 3 Michael Sweeney
Grand Final - 1 Michael Dunlop; 2 Ryan Farquhar; 3 Guy Martin