Ulster Grand Prix: Guy Martin tops Superbike qualifying
Last updated on .From the section Northern Ireland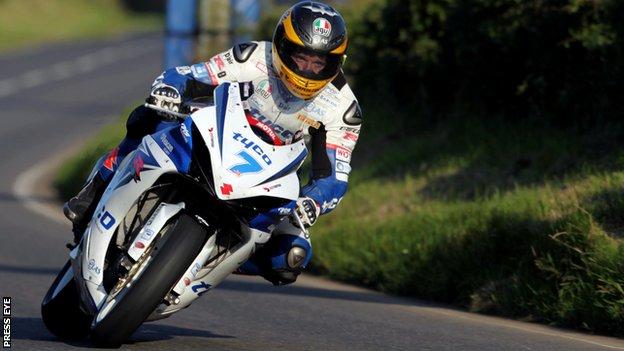 Guy Martin clinched pole position for the two Superbike races at Saturday's Ulster Grand Prix as he set the fastest lap in official practice on Thursday.
The Lincolnshire man lapped at 131.70pmh on the Dundrod circuit which left him just ahead of the Dunlop brothers Michael and William.
However, remarkably Michael Dunlop were on to record a faster lap in Superstock practice as he clocked 132.02mph.
William Dunlop claimed Supersport pole with a 126.82mph lap.
On his honda machine, Michael Dunlop was second fastest in the Superbike session with a lap of 131.57 which left him .13mph behind polesetter Martin.
But riding his Kawasaki bike in Superstock qualifying, Dunlop then produced the fastest lap of the week with his 132.02 which left him way ahead of Bruce Anstey (129.92) and superbike pacesetter Martin (128.82).
William Dunlop claimed Supersport pole with a 126.82mph which left him ahead of Gary Johnston and Michael Dunlop.
Ryan Farquhar dominated the Supertwins qualifying ahead of Ollie Linsdell.
The Dungannon man on his Kawasaki clocked a fastest lap of 116.01 which left him well ahead of Linsdell (114.33) and Jamie Hamilton (113.73).
The margins were much tighter in the Superbike session with third fastest William Dunlop also lapping at more than 131mph.
William Dunlop's Supersport time of 126.82mph put him .66mph ahead of Johnson with Michael Dunlop clocking 125.95mph.
In the 250cc qualifying, Saintfield man Davy Morgan (126.98) edged out English rider Rob Barber and another Northern Ireland man Seamus Elliott (112.51).
The Dundrod 150 races take place later on Thursday afternoon.
Ulster Grand Prix schedule
Thursday - Roads close from 10:30 BST to 20:30 BST for practice and Dundrod 150 races
Race 1 - Dundrod 150 National; Race 2 - UGP 125cc and Supertwins; Race 3 - Dundrod 150 Challenge; Race 4 - Dundrod 150 Superbike
Saturday - Roads close from 09:30 BST to 20:30 BST for Ulster Grand Prix
Race 1 - Superstock; Race 2 - Supersport Race 1; Race 3 - 250cc and Supertwins; Race 4 - Ulster Grand Prix Superbike Race; Race 5 - Supersport Race 2; Race 6 - Superbike Race 2