Derry manager John Brennan throws down the gauntlet
Last updated on .From the section Northern Ireland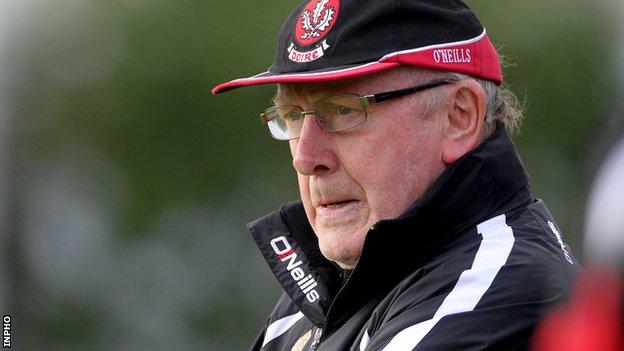 John Brennan has challenged anyone interested in the Derry manager's job to step forward and take it.
"If anybody wants this job, they can feel free, they can go for it. I'll not be standing in their way," he said.
"If anybody else can manage with the skeleton squad that I did, and manage without the top notch players, then in my opinion they are free to do so.
Brennan has yet to declare whether he wishes to stay on after Derry's recent qualifier defeat by Longford.
The Oak Leaf boss was involved in a war of words with star forward Paddy Bradley following their Championship exit, when Bradley claimed the county was poorly funded and under prepared, which Brennan refuted at the time.
The Lavey man's frustrations have now spilled over as a result of the slow nature of the review process.
"I have talked to Derry chairman John Keenan on the phone. I wanted to meet the executive committee this week," he told the Irish News.
"He said that wasn't possible, but that he would arrange a meeting as soon as possible. I presume that will be next week."
Brennan wishes to use this meeting as an opportunity to air his grievances at some of the mistakes made this year.
"The promise was made to me that we would have a discussion first. I am not walking away before I get putting my point of view across."