Guy Martin and Michael Dunlop star at thrilling Ulster Grand Prix
Last updated on .From the section Northern Ireland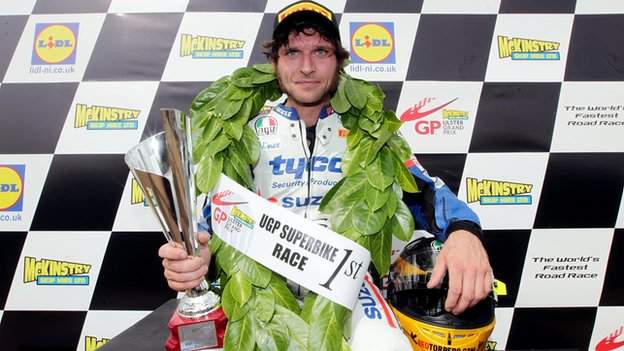 Guy Martin and Michael Dunlop won the Superbike races at an exciting Ulster Grand Prix at Dundrod on Saturday.
Martin duelled with Dunlop before winning the main event but Dunlop edged out Martin in a classic second race to add to his earlier Superstock win.
Earlier, Dunlop's brother William won the first Supersport race of the day.
Bruce Anstey edged out William Dunlop in a thrilling second Supersport race with Ryan Farquhar and Davy Morgan clinching Supertwins and 250 wins.
Martin's Superbike triumph ended a barren couple of months for the English rider on the roads as his earned his eighth Ulster Grand Prix victory.
Lincolnshire man Martin led for the opening four laps in the main Ulster Grand Prix Superbike race before being caught by Michael Dunlop.
The two riders then fought out a tremendous battle before Dunlop slid out on the penultimate lap which allowed Martin to earn a comfortable win ahead of Gary Johnson and Conor Cummins.
Martin again led in the final Superbike race but he was caught by Dunlop with three laps remaining and the two riders swapped the lead on several occasions in the closing stages before the 23-year-old Ulsterman clinched victory with Cummins again in third.
Despite suffering from a back injury, Michael Dunlop won the opening Superstock race ahead of Ian Lougher and Martin.
William Dunlop took the first Supersport race just ahead of Anstey with Lee Johnston third in a race halted early by a red flag.
New Zealander Anstey appeared to have an edge on speed before the first Supersport race was halted and said afterwards that he had intended to move ahead over the closing two laps.
However, Anstey earned revenge in their second Supersport race as he produced a superb last-lap overtaking manoeuvre to pip William Dunlop with Cummins again in third.
Dunlop had a healthy lead early on in the second Supersport race but Anstey were right on his tail by the start of the final lap.
Backmarkers threatened to make Dunlop's task on the closing circuit but Anstey produced his late brilliance to clinch victory.
Michael Dunlop came in ahead of veteran Lougher and Tyco Suzuki rider Martin in the Superstock opener at Dundrod.
Martin led early on but said that difficulty reading his pit board had affected his chances in the second half of the race.
"I was reading the wrong board. I thought I had got a penalty," he said.
Some pundits have been predicting that Dunlop could equal Phillip McCallen's 16-year old record of five wins in one day at the Ulster Grand Prix and he made the perfect start on Saturday.
"My back is not in the best condition but once I get back on the bike, I'm not too bad," said Dunlop after the opening win.
The Supertwins race had to be restarted because of an incident on lap two but Farquhar dominated throughout as he finished ahead of his KMR Kawasaki team-mate Jamie Hamilton and Russ Mountford.
In the concurrently run 250cc race, Paul Robinson's late retirement allowed Morgan to take the victory ahead of another Northern Ireland man Seamus Elliott and English rider Kevin Strowger.
An emotional Strowger dedicated his podium finish to the memory of his late friend Lee Vernon who died on Friday after sustaining injuries at Thursday's Dundrod 150 meeting.
SUPERSPORT RACE 1
1. W Dunlop
2. B Anstey
3. L Johnston
SUPERTWINS
1. R Farquhar
2. J Hamilton
3. R Mountord
250cc Race
1. D Morgan
2. S Elliott
3. K Strowger
ULSTER GRAND PRIX SUPERBIKE RACE
1. G Martin
2. G Johnson
3. C Cummins
SUPERSPORT RACE 2
1. B Anstey
2. W Dunlop
3. C Cummins
SUPERBIKE RACE 2
1. M Dunlop
2. G Martin
3. C Cummins