Derry GAA board seek nominations for football manager's post
Last updated on .From the section Northern Ireland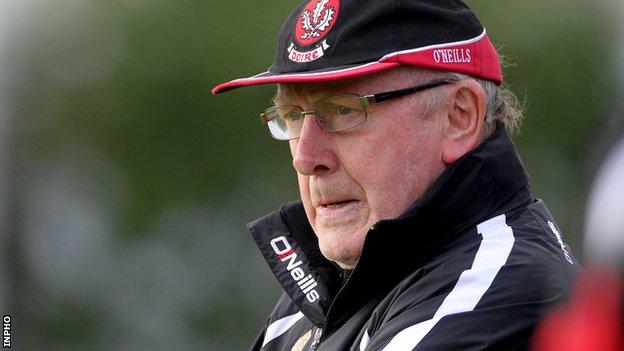 John Brennan's future as Derry football manager appears even more uncertain after the county's GAA board decided to seek nominations for the job.
Clubs will have until the middle of next week to nominate candidates.
Last week, Brennan challenged anyone interested in the Derry position to "go for it", adding that he would not be "standing in their way".
It's far from clear whether Brennan will allow his nomination to go forward for the job.
Prior to his appointment in September 2010, Brennan refused to get involved in a long drawn out interview process although that didn't prevent him landing the job on that occasion.
Last week, Brennan defended his efforts with the team despite their Championship defeats by Donegal and Longford this season.
"If anybody else can manage with the skeleton squad that I did, and manage without the top notch players, then in my opinion they are free to do so," Brennan told the Irish News.
Brennan has yet to declare whether he wishes to stay on after Derry's recent qualifier defeat by Longford.
The Oak Leaf boss was involved in a war of words with star forward Paddy Bradley following their Championship exit, when Bradley claimed the county was poorly funded and under prepared, which Brennan refuted at the time.
The Lavey man last week also made clear his frustration at the county board's delay in reviewing this season's campaign.
Brennan said he wanted to use a meeting with county officials as an opportunity to air his grievances at some of the mistakes made this year.
"The promise was made to me that we would have a discussion first. I am not walking away before I get putting my point of view across."