Liam Bradley quits Antrim job after four years in charge
Last updated on .From the section Northern Ireland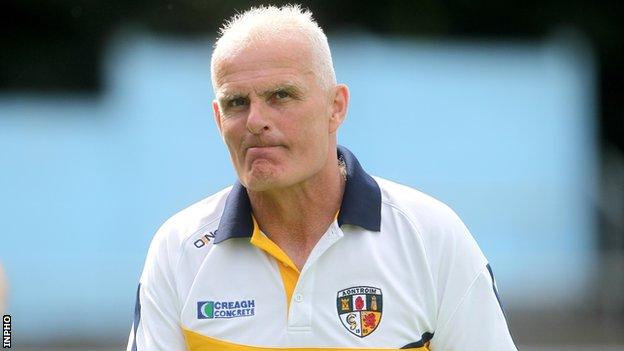 Antrim football manager Liam Bradley has resigned.
Bradley has been linked with the Derry managerial position after John Brennan's future as Oak Leaf boss was put in doubt by the decision to open up the post to nominations from clubs.
Glenullin man Bradley guided Antrim to the 2009 Ulster final in his first year in charge of the county.
"Antrim football now is in a much better place than it was in 2009," said Antrim GAA chairman Jim Murray.
"He gave the players belief and confidence and under his management great strides have been made.
"There have been a few highlights including reaching the Ulster Final, securing successive promotions and beating Galway this summer.
"Liam Bradley has been good for Antrim and we wish him every success in the future.
"Over the next few days the County Board will put in place aprocess to seek nominations for a new manager."
Present Derry manager Brennan has yet to indicate whether he will seek to remain after two years in the job.
Brennan's second one-year term ended after the county's round one qualifier defeat to Longford at the end of June.
The Derry county executive met with Brennan two weeks ago to allow him to give his assessment of the 2012 campaign.
Prior to being appointed in September 2010, Brennan had indicated that he would not be willing to go through an interview process to secure the job.