Brian McIver favourite for Derry football manager post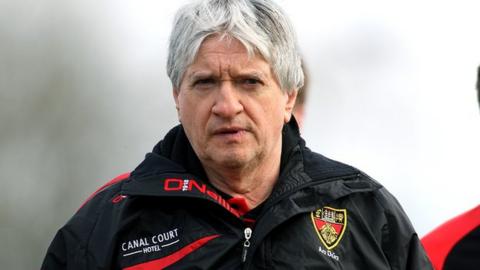 Brian McIver is the front-runner to become Derry boss after he was one of five men nominated for the post.
Current boss John Brennan, Tony Scullion, Peter Doherty and Liam Bradley, who resigned as Antrim boss on Monday, have also been nominated.
Ballinderry man McIver was in charge of Donegal for three years before stepping down in 2008 and he took Ballinderry to an All-Ireland title in 2002.
Bradley said he is unsure as to whether to put himself forward for the job.
He was linked with the position after Brennan's future as Oak Leaf boss was put in doubt by the decision to open up the post to nominations from clubs.
Glenullin man Bradley guided Antrim to the 2009 Ulster final in his first year in charge of the county.
Former Derry player Scullion and Kilrea manager Doherty are also in the frame to take over from Brennan.
The Derry county executive met with Brennan two weeks ago to allow him to give his assessment of the 2012 campaign.
Prior to being appointed in September 2010, Brennan had indicated that he would not be willing to go through an interview process to secure the job.
McIver has been part of backroom teams with Down and most recently the Derry minors.