Lenny Harbinson says he may be interested in Antrim job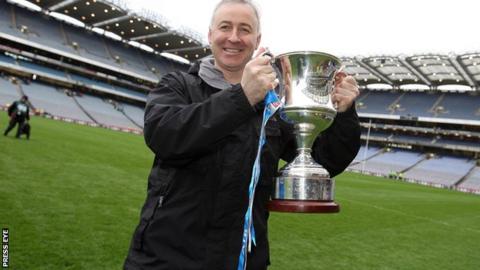 Lenny Harbinson has declared he is interested in becoming the new Antrim senior football manager.
Harbinson led west Belfast side St Gall's to the All-Ireland club title in 2010 but stepped down a few months ago.
"If somebody put my name forward and the county wanted to speak to me, obviously that would be a big consideration," said Harbinson.
Liam Bradley quit the saffrons on Monday after four years in charge, leading them to the 2009 Ulster final.
Clubs in Antrim have until September 9 to put forward their nominations for the vacant senior football manager's position.
Harbinson, who played for the county for 12 years, told The Irish News he will speak to county chiefs if he is nominated.
"As an Antrim man, it would be one of my aspirations to manage my own county at some stage," he said.
"But at this moment in time I haven't been in contact with anybody [from the county board] and nobody's been in contact with me."