GAA Interpros survive for another year
Last updated on .From the section Northern Ireland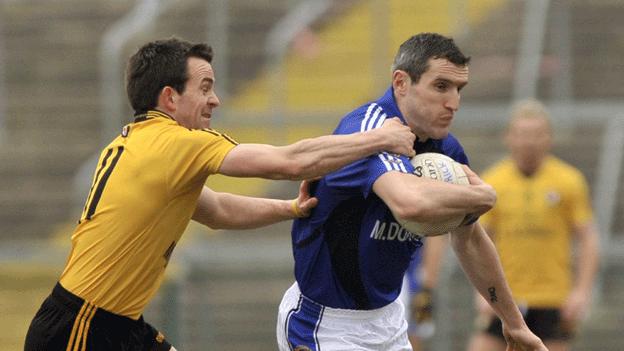 The GAA's Interprovincial competitions will continue next Spring following a decision by the association's Central Council body on Saturday.
Falling spectator attendances have led to continuing doubts over the competition's future in recent times.
The GAA has also struggled to find a regular date in the sport's calendar for the Interpros.
However, the GAA said on Monday that the M Donnelly-sponsored competitions would be played in the Spring.
Then GAA president Christy Cooney admitted his own doubts about whether the competitions in football and hurling should continue after last year's Football decider in Armagh.
A healthy attendance turned up to the football final in Armagh last February but the competition is now a far cry from its halcyon days of the 1940s, 1950s and 1960s when huge crowds invariably watched the St Patrick's Day Finals at Croke Park.
Meanwhile, the draws for the Christy Ring, Nicky Rackard and Lory Meagher Cups have been made.
Derry will host Wicklow in their Christy Ring Cup opener on 4 May with Down at home to Kerry and Armagh away to Meath on the same day in the first round.
Christy Ring Cup draw
4 May
First round
Derry v Wicklow
Down v Kerry
Meath v Armagh
Kildare v Mayo
11 May
Round 2A
round 1 winner v round 1 winner
round 1 winner v round 1 winner
Round 2B
round 1 loser v round 1 loser
round 1 loser v round 1 loser
18 May
Quarter-Finals
round 2A loser v round 2B loser
round 2A loser v round 2B loser
25 May
Semi-Finals
round 2A winner v quarter-final winner
round 2A winner v quarter-final winner
8 June
Final
Nicky Rackard Cup
4 May
Round 1
Tyrone v Louth
Roscommon v Sligo
Donegal bye
Monaghan bye
Lory Meagher Cup
4 May
Round 1
Warwickshire v Longford
Leitrim v Fermanagh
11 May
Round 1
Longford v Leitrim
Fermanagh v Warwickshire
18 May
Round 3
Warwickshire v Leitrim
Longford v Fermanagh
8 June
Final