Asian GAA teams aiming for Kuala Lumpur success
By John Haughey
BBC Sport NI
Last updated on .From the section Northern Ireland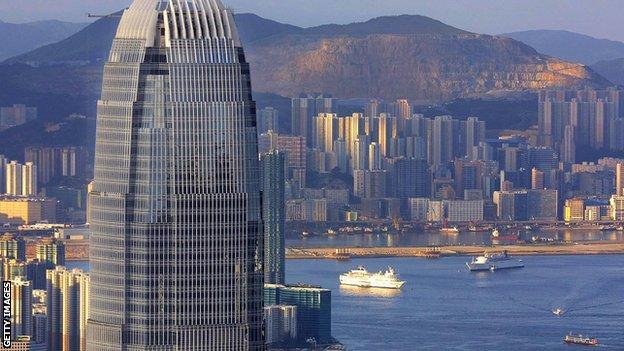 The tough economic times in Ireland look likely to conversely make for a highly successful Asian Gaelic Games Championship in Kuala Lumpur this weekend.
Over 900 players from all over Asia and the Middle East will be involved in the 17th staging of the Championship in 'KL' from Friday until Sunday.
The majority of the players hail from the Irish diaspora but several of the teams do include members from the indigenous populations.
Tokyo-based Newry man Rory O'Rorke, 25, is travelling to Malaysia with the Japan squad which includes a women's team made up entirely of local women plus a few Americans.
Rory, who works for Newry-based financial firm First Derivatives, has been in the Japanese capital for the past six months and says he was amazed to discover the make-up of the Tokyo club's women's side.
"I was shocked when I saw the women's team. It's made up of a majority of Japanese women with a few Americans. There's not one Irish girl on the team," adds financial consultant Rory who played underage football for the Newry Mitchels club.
"They get involved. It's friends of friends and work colleagues and the Japanese are very interested in anything new.
"You get asked what you are doing and you show them the game on YouTube and they get into it and if they enjoy it, they bring their friends and it all spreads by word of mouth."
In addition to the Japanese hopefuls, teams from Singapore, Dubai, China, Korea and Bhutan will be among those joining the hosts in Kuala Lumpur.
The nine-a-side matches in football, hurling and camogie will be of 20-minute duration before the medals are handed out on Sunday.
"The A Championship standard is very high - as good as you would get in senior club championships back home," says Rory, who adds that competition rules have had to be tightened up in an effort to prevent 'ringers' from turning up.
"They brought in rules to try and stop county guys being brought in but there certainly will be county men playing this weekend.
"Hong Kong won overall last year and tend to do well. Dubai are supposed to be the dark horses this year while Singapore are fancied."
In addition to thrice-weekly training sessions keeping the players in trim, Rory says that the club provided a great social outlet for the Irish ex-pats.
"A lot of the guys stayed over in Japan from the World Cup (in 2002) and have been here for a good few years.
"They are what I would call my friends over here. We go on weekend trips in Japan and play in soccer tournaments.
"It also opens doors for you. Some of the guys on the team are CEOs of companies. Maybe fellows you would otherwise never meet. It's just a great experience."
The most difficult aspect in keeping the Tokyo GAA show on the road is finding pitches for the club to train on and play games.
"It's all done on a lottery system so we have to apply for local 3G council pitches in competition with soccer and baseball teams and you know about two weeks in advance where you're going to be."
Rory is pleased to relate that sponsorship, to date, has not been a problem in his time in Japan with a number of international and local companies backing the club.
His employer First Derivatives are one of the main backers of this weekend's tournament which is also being twinned with the Asia-Pacific Irish Business Forum event in the Malaysian capital.
"The contract is going well and I'm not pushed to rush home just yet," acknowledges Rory.
"We hire a large amount of graduates coming out of university so our company has relatively a young demographic, many still within playing age.
"I only joined last August, and as with everyone was firstly based in Newry for our intensive training programme, before heading to Hong Kong for a month and on to Tokyo."
Therefore, this weekend's trip to KL is unlikely to be the Newry man's last Asian Games adventure.