Jim McGuinness sorry that Rory Kavanagh misses out on All-Star
Last updated on .From the section Northern Ireland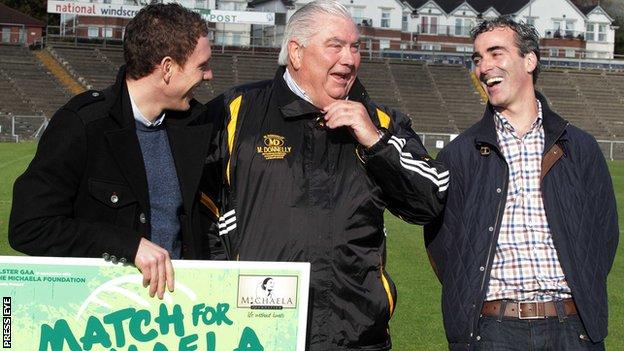 Jim McGuinness is happy Donegal have picked up eight All Stars but feels sorry for the players who missed out.
The All-Ireland winning boss feels particular sympathy for Eamon McGee, Paddy McGrath and Rory Kavanagh whom he revealed was "in my top three or four" performers for him this year.
"We would be very happy with the number eight but your heart would go out to the players who have not been selected.
"There will be disappointments, there always is," he said on Thursday.
McGuinness was speaking at the launch of the 'Match for Michaela' at Casement Park.
Although he did not name his team, McGuinness has promised to bring his strongest possible squad to Belfast for the game against Joe Kernan's Ulster team on Saturday November 3.
The Donegal county final is scheduled to take place the following day meaning that the St Eunan's and Glenties players will be unavailable for the game.
McGuinness also revealed that Neil McGee and Mark McHugh were injury concerns.
Every county in Ulster is represented on Joe Kernan's starting fifteen, with Derry's Chrissy McKaigue, Tyrone's Colm Cavanagh and Cavan's David Givney making their Ulster debuts.
Ulster team: B McVeigh (Down), R McCluskey (Fermanagh), D Gordon (Down), C McKaigue (Derry), C McKeever (Armagh), D Hughes (Monaghan), J Loughrey (Antrim), S Cavanagh (Tyrone), D Givney (Cavan), C Cavanagh (Tyrone), M Poland (Down), Joe McMahon (Tyrone), M Penrose (Tyrone), M McCann (Antrim), C McManus (Monaghan). Subs: C Gormley (Tyrone), V Corey (Monaghan), B Donaghy (Armagh), A Rogers (Down), G McKiernan (Cavan), B Coulter (Down), N Morgan (Tyrone)
Donegal squad: P Durcan, P McGrath, E McGee, T McKinley, F McGlynn, K Lacey, Declan Walsh, C Toye, N Gallagher, D McLaughlin, A Hanlon, R Bradley, P McBrearty, M Murphy, David Walsh, M Boyle, A McFadden, M McHugh, P Withrow, M McElhinney