Donegal defender Karl Lacey wins Player of the Year award
Last updated on .From the section Northern Ireland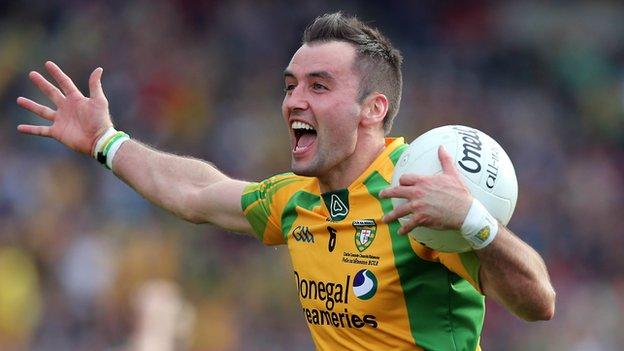 Donegal defender Karl Lacey has been named Footballer of the Year at Friday night's All-Star Awards in Dublin.
The centre half-back inspired Donegal to the All-Ireland title and he came away with the top prize ahead of team-mates Colm McFadden and Frank McGlynn.
Mayo's Cillian O'Connor took the Young Player award while the Hurler of the Year honour went to Kilkenny forward Henry Shefflin.
Johnny Coen of Galway collected the Young Hurler of the Year award.
All-Ireland champions Kilkenny were represented by five players in the Hurling All-Stars team, one less than beaten finalists Galway.
Cats centre forward Shefflin takes his place in the line-up for an 11th time.
Donegal were rewarded for their Sam Maguire triumph over Mayo by having eight players in the Football All-Stars team.
It is one short of the record haul of nine shared jointly by Dublin in 1977 and Kerry in 1981.
Lacey was selected in the line-up for a fourth time and his consistent excellence led to him winning the player award for the first time.
Tyrone's Sean Og Grogan won the Player of the Year award in the Lory Meagher Cup.
2012 GAA GPA Football All-Stars
P Durcan (Donegal), N McGee (Donegal), Ger Cafferkey (Mayo), K Higgins (Mayo), L Keegan (Mayo), K Lacey (Donegal), F McGlynn (Donegal), N Gallagher (Donegal), A Walsh (Cork), P Flynn (Dublin), A Dillon (Mayo), M McHugh (Donegal), C O'Neill (Cork), M Murphy (Donegal), C McFadden (Donegal)
2012 GAA GPA Hurling All-Stars
A Nash (Cork), P Murphy (Kilkenny), JJ Delaney (Kilkenny), F Moore (Galway), B Bugler (Clare), B Hogan (Kilkenny), D Collins (Galway), I Tannian (Galway), K Moran (Waterford), TJ Reid (Kilkenny), H Shefflin (Kilkenny), D Hayes (Galway), J Mullane (Waterford), J Canning (Galway), D Burke (Galway)