Alastair Seeley leaves TAS Suzuki team to pursue Supersport bid
Last updated on .From the section Northern Ireland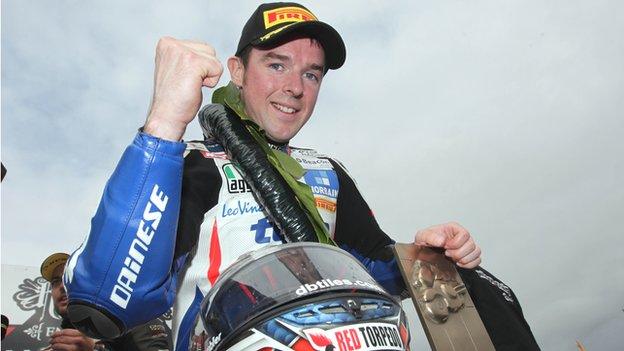 Alastair Seeley and the Tyco TAS Suzuki team have brought their very successful four-year partnership to an end as the Carrickfergus rider plans a shot at British Supersport glory in 2013.
Seeley won the British Superstock and British Supersport titles in the colours of the Moneymore-based team.
He also secured a top-six finish in British Superbikes in 2010 but was unable to repeat that form this year.
Seven of Seeley's eight North West 200 wins also came in the TAS Suzuki team.
He secured a hat-trick of wins, plus three second-placed finishes, at this year's event in May.
The 33-year-old endured a difficult season in 2012, with a series of disappointing results in the blue riband Superbike class of British racing leaving him in 13th position in the final standings.
The former Irish Superbike champion hopes to secure a return to the Supersport class, but the North West 200 will again feature heavily in his plans.
"It's never an enjoyable day when you have to let a rider go, especially when he has brought success to your team, but we have parted on very good terms and who knows, we may see Alastair back on one of our bikes in the future," said TAS team boss Phillip Neill.
"After a tough year in BSB, Alastair has decided that he would like to return to the Supersport class - a decision that I fully support.
"Unfortunately we are unable to offer Alastair a position in Supersport at this time, as our main focus will again be in British Superbike with Tyco and Suzuki in 2013.
"There are only a handful of top rides in any class, and the last thing I wanted to do was hold Alastair back as he needs to move swiftly to secure a deal for next season."
Seeley commented: "I've had a great time working with Philip and Hector and all the boys in the team.
"They took me to two British titles and I learned a lot about all aspects of the sport during this time.
"For that I'd like to thank them and Suzuki, but everything comes to an end at some point and I admire Philip for being honest with me so early after the season has finished. It allows me time to find a new position."