Alastair Seeley back in British Supersport class for 2013
Last updated on .From the section Northern Ireland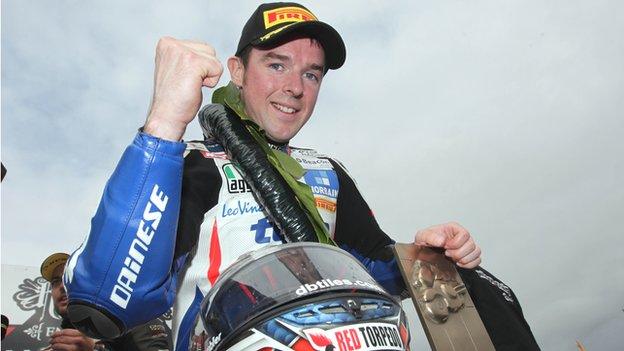 Alastair Seeley will return to the British Supersport Championship with the Gearlink Kawasaki team in 2013 and will ride MSS Kawasaki bikes at the North West 200 in May.
Seeley won the British Supersport title with Tyco TAS Suzuki in 2011 but endured a difficult British Superbike season with the team this year.
"It will be nice to go back to the British Supersport class," said Seeley.
"My style is more smooth and suits a Supersport bike."
Seeley will compete alongside Ben Wilson in the Gearlink team in the British Supersport series.
In 2011, Seeley pipped Wilson by a single point to land the British Supersport title.
He will also compete at the North West 200 Supersport class for the Gearlink team as well as challenging in the Superbike and Superstock classes for the MSS outfit at the Northern Ireland event.
"I am glad to be going to a top team. I'll have a good team-mate and we'll be pushing each other on for the British title.
"They'll also be coming across to do the Supersport class at the North West 200 and I'll also be riding the MSS Superbike and Superstock bikes there," added Seeley, who has clinched eight victories at the event.
"The MSS bike last year won the Superstock race with Michael Rutter on board so it will be a very competitive package."
Seeley expects to head to Spain in February for some warm-weather testing with his new bikes and in the meantime will train hard for the new season at the Sports Institute of Northern Ireland.