Sponsor in acrimonious split with Armagh County Board
Last updated on .From the section Northern Ireland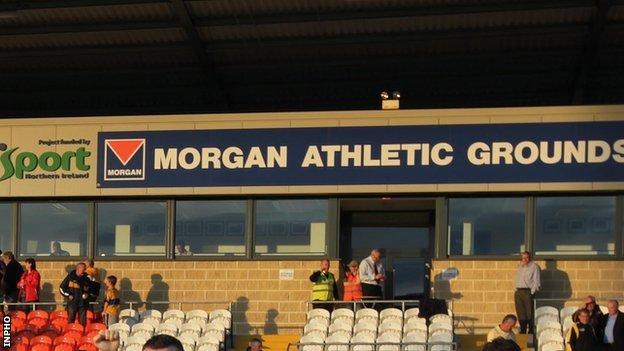 Armagh's main sponsor for the last 17 years, Morgan Fuels, has severed all connections with the county.
In announcing the split, the firm's managing director Hugh Morgan launched a stinging attack on the county board.
He said relationships with county officials had broken down and accused them of failing to stem the decline of gaelic football in the county.
Armagh, who recently unveiled new team sponsors, said they were disappointed with Morgan's statement.
Last year Morgan Fuels, who had been Armagh's shirt sponsor, agreed a naming rights deal for the county's redeveloped Athletic Grounds.
The contract was to have lasted for five years but has now been terminated.
Morgan claimed the county board had failed to provide agreed arrangements for branding and corporate hospitality at the ground.
He also said he felt his firm's financial backing was not being invested in the development of the county's various teams.
"I sought to bring pressure on the board by asking them to bring forward a strategy that would equip Armagh football to go forward with confidence and to strive for the success they had achieved previously," he said.
"I made it clear that unless such a strategy was developed, the financial support of Morgan Fuels could not be guaranteed.
"I am sorry to say that my request was ignored and, consequently, I had no option but to suspend our financial support."
In response, the Armagh county board said: "We are disappointed with Mr Morgan's response to our new sponsorship arrangements since at all times we endeavour to conduct our affairs with discretion and integrity.
"While our partnership with Morgan Fuels has been prosperous and mutually respectful for many years, recently some complications have arisen regarding the sponsorship of Armagh.
"We wish him and his company well and would like to thank him sincerely for his contribution to our county over the past 17 years.
"Finally, while we welcome advice on how to manage our coaching and games, we will ensure that this part of our operation is under the strategic control of our county board."