NI sports to get government cash
Last updated on .From the section Northern Ireland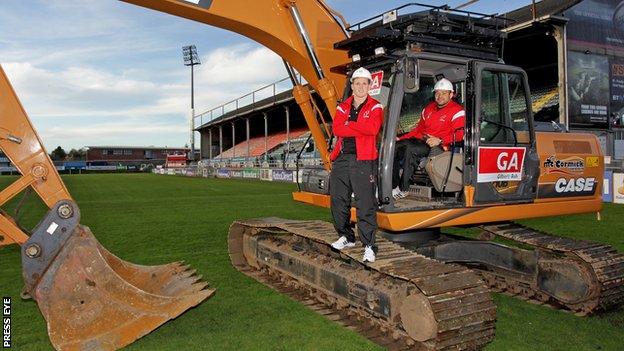 Rugby, GAA and football in Northern Ireland are to benefit from a further £1.5m each in government grants.
The cash comes on top of the £61m aid for the redevelopment of Casement Park, Ravenhill and Windsor Park.
The Ulster Council of the GAA revealed Tyrone would be getting money for the completion of their new training and administration centre at Garvaghey.
The Irish Football Association said it was still debating which grassroots schemes would be receiving support.
On Tuesday, more than £1m in government assistance was announced for the Tyrone project at Garvaghey.
The Department of Agriculture and Regional Development is allocating £595,000, bringing its total contribution towards the scheme to £850,000.
Sports Minister Caral Ni Chuilin said that a further £500,000 would come from her Culture, Arts and Leisure department.
The government assistance was welcomed by Tyrone chairman Ciaran McLaughlin, who had previously been critical about what he felt was a lack of support from the Northern Ireland Assembly.
He said the DARD money would be invested directly in the construction of a 3G pitch at Garvaghey.
The £500,000 provided by the DCAL would go towards the pitch and other projects.
"These grants mean Tyrone GAA will be able to provide state of the art sports facilities," said McLaughlin.
"The money is a huge endorsement of the work we are planning to do at Garvaghey, and I have no doubt that it will provide a long lasting legacy for the people of Tyrone and indeed Ulster."