Keith Farmer excited about securing British Superbike ride
Last updated on .From the section Northern Ireland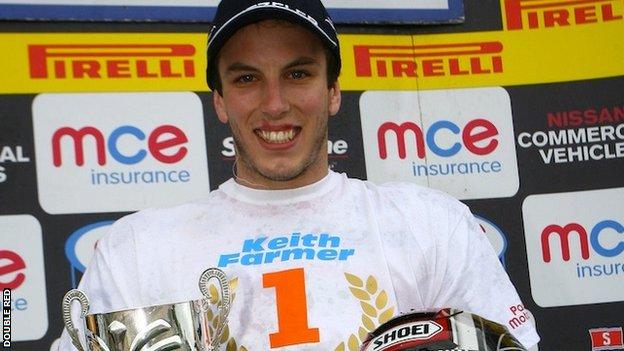 Keith Farmer says he is thrilled to have secured a ride with the Paul Bird Kawasaki team for the 2013 British Superbike championship.
"I thought 2012 was a big year, but next year promises to be even bigger," said the 24-year-old from Clogher.
"It's not long ago that I was watching BSB on television - now I'm going to be Shane Byrne's team-mate. It's all a bit surreal and a dream come true.
"It's another step up, but I still have a lot more to learn," added Farmer.
"The fact that I will be on better tyres and will have better suspension is a bonus, plus I'll be carrying more corner speed.
"Shakey (Byrne) has been a great help to me, showing me round the tracks and helping me in the places where I was struggling.
"I'm hopeful that he'll still be helping me out, even though we are now competing in the same series - he's that kind of guy."
Farmer, who won the British 1000cc Superstock title this season, will begin official testing in Spain in March, but is determined to work on his fitness in the meantime.
"I will have a lot more track time next season, and the races will be a lot longer, so I'm putting in plenty of effort in the gym and hopefully I will reap the rewards.
"I want plenty of bike time before the start of the season as I'm still learning and it is a steep learning curve.
"I want to show everyone what I'm made of and would be very happy to finish in the top 10 at the end of the season."