Michael Dunlop signs for Honda Legends team
Last updated on .From the section Northern Ireland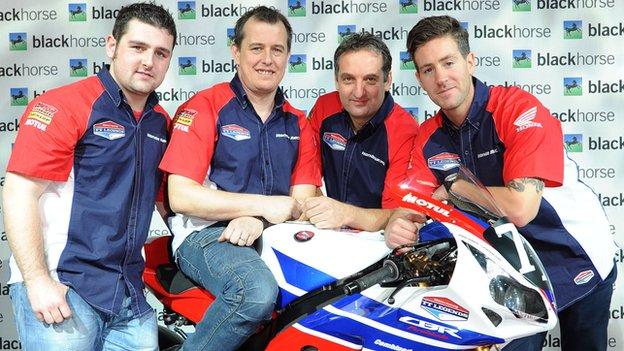 Michael Dunlop will ride for the Honda Legends team at next year's North West 200 and Isle of Man TT road races.
The 23-year-old Ballymoney rider will hope to add to his three TT wins and his sole North West win back in 2008.
Dunlop will be joined on the roads by six-times North-West winner John McGuinness and Michael Rutter, who has 13 career successes on the Triangle.
Dunlop will ride a Superbike for the team and will run Superstock and Supersport bikes with his own sponsors.
He will also have a new Superbike machine for use at the Ulster Grand Prix and the national road races which he opts to compete in.
Simon Andrews and Cameron Donald will compete for the Legends outfit in the World Endurance championship, along with McGuinness and Rutter.
"This is a big opportunity for me and I am looking forward to getting started," said Dunlop.
"People are asking me how it will be for me having John as a team-mate, but when we get on the bike it will be the same.
"I get on well with John but I don't worry about anybody else when I am on track.
"As a team we have got a great line-up with Rutter as well, so it will be a pretty good show."
Team boss Neil Tuxworth said: "It is quite significant that, not only are we running three riders, but we are bringing Michael Dunlop in as one of those three.
"Michael is a young rider who already has three TT wins under his belt and we feel that he is the future of road racing."
The Legends team will be entering a third year in competition and they will again contest the Endurance World Championship as well as the Isle of Man TT and the North West 200 road races aboard the Honda Fireblade.
Nineteen-times TT winner McGuinness, road racing ace Donald and 2011 fastest TT newcomer Andrews will remain with the team and are joined by Rutter for the four-round EWC season.
McGuinness and three-times TT victors Rutter and Dunlop make up the three-man Superbike squad for the TT and the NW200.