Holders Tyrone will face Derry in Dr McKenna Cup opener
Last updated on .From the section Northern Ireland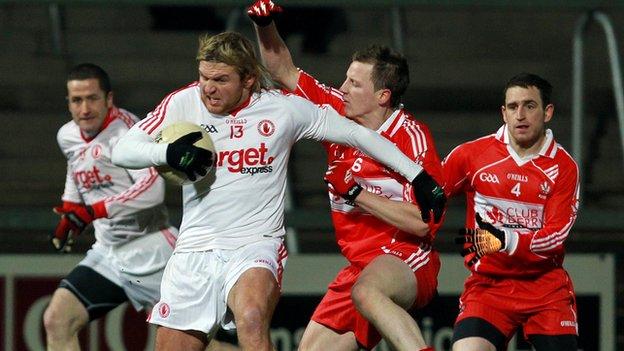 Holders Tyrone will open the defence of their Dr McKenna Cup title with an encounter against Derry at Healy Park on Sunday 6 January.
The other Section C game on the first day of games with see Antrim taking on Jordanstown at Casement Park.
In Section B on 6 January, Armagh will face Queen's at the Athletic Grounds with Cavan hosting Down at Breffni.
In Section A, Monaghan will face St Mary's at Clones on 6 January with Fermanagh meeting Donegal on 9 January.
There will be further rounds of section games on Sunday 13 January and Wednesday 16 January.
The semi-finals are scheduled for Sunday 20 January with the decider on Saturday 26 January.
Power NI Dr McKenna Cup fixtures
6 January (14:00 GMT)
Section A
Monaghan v St Mary's College (Clones)
Section B
Queen's v Armagh (Athletic Grounds)
Cavan v Down (Breffni Park)
Section C
UUJ v Antrim (Casement Park)
Tyrone v Derry (Healy Park)
9 January (19:30)
Section A
Fermanagh v Donegal (Brewster Park)
13 January (14:00)
Section A
St Mary's v Fermanagh (Brewster Park)
Donegal v Monaghan (Ballybofey)
Section B
Armagh v Cavan (Athletic Grounds)
Down v Queen's (Pairc Esler)
Section C
Antrim v Tyrone (Casement Park)
Derry v Jordanstown (Celtic Park)
16 January (19:30)
Section A
Donegal v St Mary's (Ballybofey)
Monaghan v Fermanagh (Inniskeen)
Section B
Cavan v Queen's (Breffni Park)
Down v Armagh (Pairc Esler)
Section C
Tyrone v Jordanstown (Healy Park)
Derry v Antrim (Celtic Park)
20 January
Semi-finals (14:00)
Section A winners v Section B winners
Section C winners v best runner-up
26 January
Final