Queen's University could withdraw from 2013 McKenna Cup
Last updated on .From the section Northern Ireland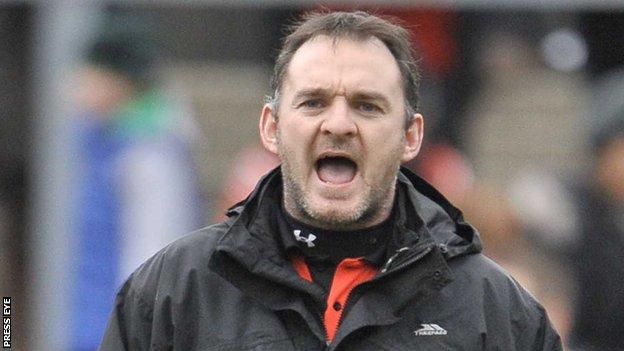 Queen's University are considering pulling out of the 2013 McKenna Cup over fears they will lose their top players to county squads.
Universities no longer have first call on who students play for and QUB manager Anthony McGrath told the Irish News the situation was beyond farcical.
Queen's lost all three of their McKenna Cup games this year after playing with a weakened squad.
"We are not prepared to be in that position again," added McGrath.
The Ulster Council has been unable to enforce a previous rule stating that colleges get first choice on students in the competition.
McGrath expects Ryan Rafferty, Coalan Rafferty, Eugene McVerry (all Armagh), Sean Warnock and Harry Og Conlan (both Tyrone), Ryan Jones and Brian Cox (both Fermanagh), Owen Costello and Ryan Mallon (both Down) to opt to play for their counties.
Aidan O'Rourke, GAA Development Manager at Queen's, also questions the merit of competing in the McKenna Cup.
"If we lose six to nine players because we don't get the support of the Ulster Council, then the competition becomes a non-event for us," he said.
"We have to ask ourselves what is the point in fielding a quarter strength team against a nearly full strength county team?
"What good will we gain from taking a hammering? We need to seriously consider how we are going to prepare for the Sigerson."