Ulster GAA chief wants fair play for colleges in McKenna Cup
Last updated on .From the section Northern Ireland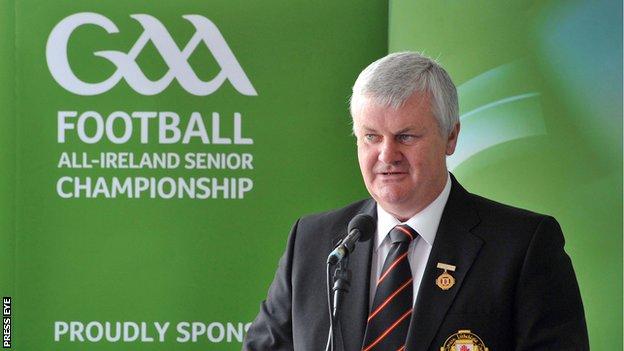 Ulster Council President Aogan Farrell has called on county chairmen to ensure that college teams have first call on student players in the McKenna Cup.
Farrell is unhappy that some county team managers are intending to select players who should be available to Queen's University, UUJ or St Mary's.
Farrell has made a direct appeal to the chairmen to ensure that the rules of the competition are adhered to.
"The county chairmen should be calling the shots in our counties," he said.
Farrell, speaking at the launch of the Dr McKenna Cup in Armagh on Tuesday night, confirmed that the counties must have submitted their panels for the pre-season competition by Thursday.
While admitting he has not spoken directly to any county team manager, the Ulster chief made it clear his sympathies are with the players.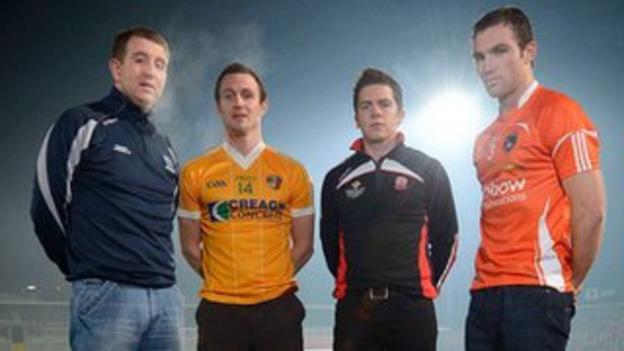 "Our jurisdiction is with the county boards and I have met the county chairmen and I have appealed to them that they should take charge of their county boards.
"There are so many people who have interests in counties but the person who really runs the county under our rule is the chairmen.
"I have spoken to players and I feel sorry for them.
"I understand what they're telling me - they're in a conflict. They want to get on their county teams and don't want to jeopardise that. They are in a difficult position.
"We have asked our counties to be reasonable and after Thursday night I'll know if some of them are being unreasonable."
University teams first participated in the McKenna Cup in 2004 and their presence has been a huge factor in the successful revamping of the province's subsidiary tournament.
While all three are unhappy with the current stance of some county team managers, Farrell does not expect any of them to actually pull out of the competition, which begins on Sunday January 6.
"There will be 12 teams in the McKenna Cup," he stated.
"We have applications from 12 teams and 12 teams will take part as far as I'm aware."