GAA's further football rules proposals include black cards
Last updated on .From the section Northern Ireland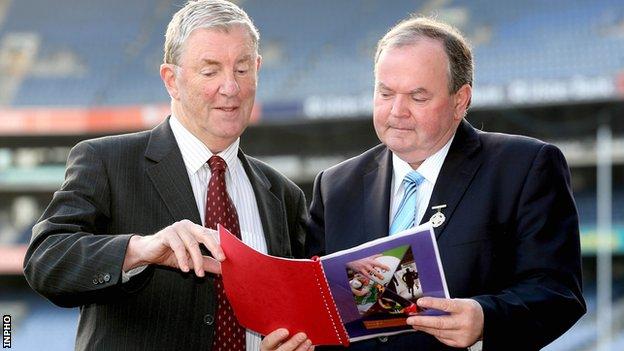 The GAA has announced further proposed football rules changes which will see players involved in cynical fouling being substituted automatically.
Last month's initial Football Review Committee proposals stated that players handed yellow cards should be automatically substituted.
However, following an outcry this policy has been scrapped to provide instead for a new black card system.
Those players receiving black cards will now be automatically replaced.
Black card offences are:
1 To deliberatively pull down an opponent
2 To deliberately trip an opponent with hand, arm or foot
3 To deliberately body collide with an opponent after he has played the ball away or for the purpose of taking him out of the movement of play
4 To use abusive or provocative language or gestures to players
5 To remonstrate in an aggressive manner with a match official.
A GAA statement said that the new black card category was aimed at "reducing deliberate and cynical fouling and also to increase respect towards referees and fellow players".
In addition, after a team has been give three black cards, any further black cards will mean the player going off with no substitution.
The above changes will be introduced next year if approved by Congress.
For inter-county competitions a cumulative total of three black cards or three double yellow cards for an individual in any one grade in the same year will lead to a one-match suspension.
These one-match bans would not apply to an All-Ireland Final, in which case the one-match suspension is carried forward to the next match.
The present yellow card system will remain in place while the number of substitutions permitted should be increased from the present five to six, to coincide with the introduction of the proposed changes.
The latest proposals come after last month's Football Review Committee blueprint was viewed by the wider GAA family.
Other proposals announced last month remain in place, including the introduction of a 'mark' to reward high fielding.