Managers take chance to look at new players in McKenna Cup
Last updated on .From the section Northern Ireland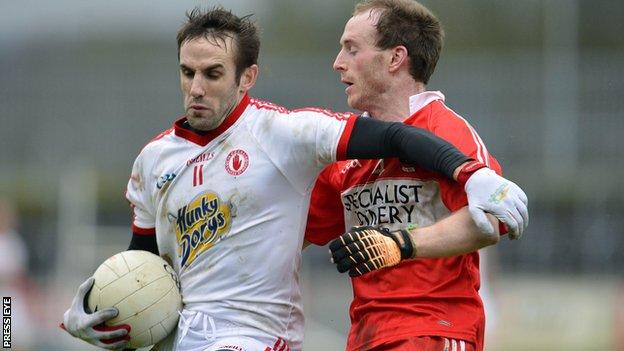 Both Mickey Harte and Brian McIver have rung the changes for their team's McKenna Cup games this weekend.
Only Niall Morgan, Conor Gormley, Sean Cavanagh and Stephen O'Neill remain in the Tyrone team for Sunday's Section A game against Antrim at Casement.
McIver hands Derry debuts to Thomas Mallon, Philip Bradley, Daniel Heavron and Conor McAtamney for Saturday night's game against UUJ.
The Derry team also includes Eoin Bradley, Colin Devlin and Mark Lynch.
Lynch will captain the team from centre half-back while the side also includes PJ McCloskey and Enda Lynn.
The Oak Leafers are minus trio Declan Brown, Patsy Bradley and Barry McGoldrick.
Brown will miss the remainder of the competition after bruising a kidney in last Sunday's last-gasp defeat by Tyrone.
Midfielder Bradley and half-forward McGoldrick both sustained dead legs in the Section C match at Healy Park.
Tiernan McCann, Peter Harte, Darren McCurry, Plunkett Kane and Conor McAlliskey, who all came on for Tyrone last weekend, will start in Sunday's Casement Park clash.
Aidan McCrory, Cathal McCarron, Dean McNally, Ronan McNamee, Sean Warnock and Patrick McNiece are also drafted into the side.
John Carron and Colm Fleming are handed their first Antrim starts after coming on as substitutes in last weekend's win over UUJ while Paul Doherty moves from midfield to full-back.
Armagh manager Paul Grimley names eight debutants in an inexperienced team for Saturday evening's game against Cavan at the Athletic Grounds.
An interesting inclusion is Crossmaglen's Stephen Finnegan who has apparently been dropped by his club managers Tony McEntee and Gareth O'Neill.
However, Finnegan will start at corner-back on Saturday while other debutants include Mark Shields, Stephen Harold, Niall McConville and the highly-rated Ethan Rafferty.
Martin Dunne again starts for Cavan after his impressive nine-point haul in last weekend's opening defeat by Down.
Monaghan boss Malachy O'Rourke hands debuts to Owen Coyle and Keith McEnaney while Donal Hahessy gets his first start after coming on as a substitute in last weekend's win over St Mary's.
Mark Keogh, Ronan McNally, David Hughes, Conor Galligan, Owen Lennon, David Hughes and Thomas O'Neill are also brought into the starting side.
Those dropping out from last weekend's side are Rory Beggan, Fintan Kelly, Martin McElroy, Karl O'Connell, Neil McAdam, Dick Clerkin, Stephen Smyth, Owen Duffy, Pádraig Donaghy and Dermot Malone.
TEAM NEWS
Tyrone: Niall Morgan; Aidan McCrory, Cathal McCarron, Dean McNally; Ronan McNamee, Conor Gormley, Sean Warnock; Plunkett Kane, Sean Cavanagh; Tiernan McCann, Peter Harte, Patrick McNiece; Darren McCurry, Stephen O'Neill, Conor McAlliskey.
Antrim: Chris Kerr, Kevin O'Boyle, Paul Doherty, Sean Finch, Tony Scullion, Dermott McCann, Justin Crozier, Sean McVeigh, John Carron, Conor Murray, Kevin Niblock, Colm Fleming, Michael McCann, Michael Herron, Michael Pollock. Substitutes: Benny Marron, Nial Delargy, James Lavery, Conal Kelly, Brendan Herron, Dermott McAleese, Paddy Cunningham, Kieran Close, Ryan Murray, Peter McNicholl, Paddy Kelly, Fergal Johnston
Derry: Thomas Mallon; Carlus McWilliams, Dermot McBride, Brian McCallion; Conor McAtamney, Mark Lynch, Philip Bradley; Bliain Gormley, P J McCloskey; Enda Lynn, Declan Mullan, Daniel Heavron; Coilin Devlin, Eoin Bradley, James Kielt. Substitutes: Kevin Farren, Ryan Ferris, Ciaran Mullan, Kevin Johnston, Sean Leo McGoldrick, Gerard O'Kane, John McCamley, Ciaran McFaul, Raymond Wilkinson, Lee Kennedy, Ryan Bell.
Armagh: Niall Geoghagan; Stephen Finnegan, James Donnelly, Finian Moriarty; Niall Rowland, Aidan Forker, Mark Shields; Stephen Harold, Kieran Toner; Gavin McParland, Niall McConville, Ethan Rafferty; Declan Carville, Stefan Forker, Eugene McVerry. Substitutes: Conor McKeown, Ciaran McKeever, Brian Mallon, Barry Loughran, John Kingham, Stefan Campbell, Michael Stevenson, Caolan Rafferty, Declan McKenna, Anto Duffy.
Cavan: James Reilly, Oisin Minagh, Killian Brady, Damien Barkey, Padraic Reilly, Alan Clarke, John McCutcheon, Tomas Corr, Gearoid McKiernan, Damien O'Reilly, Declan McKiernan, Mark McKeever, Cian Mackey, Martin Dunne, Niall McDermott
Monaghan: Mark Keogh; Ronan McNally, David Hughes, Owen Coyle; Kieran Duffy, Dessie Mone, Conor Galligan; Owen Lennon, Darren Hughes; Kieran Hughes, Paul McArdle, Thomas O'Neill; Keith McEnaney, Conor McManus, Donal Hahessy. Substitutes: Rory Beggan, Fintan Kelly, Martin McElroy, Karl O'Connell, Neil McAdam, Dermot Malone, Dick Clerkin, Gerard McArdle, Shane McQuillan, Stephen Smyth, Owen Duffy.
DR MCKENNA CUP WEEKEND FIXTURES
SATURDAY (19:00 GMT)
Section B
Armagh v Cavan (Athletic Grounds)
Section C
Derry v UUJ (Celtic Park)
SUNDAY (14:00)
Section A
St Mary's University College v Fermanagh (Brewster Park)
Donegal v Monaghan (Ballybofey)
Section C
Antrim v Tyrone (Casement Park)