Ireland hockey team crushes Fiji 13-0 in World League 2 in Delhi
Last updated on .From the section Hockey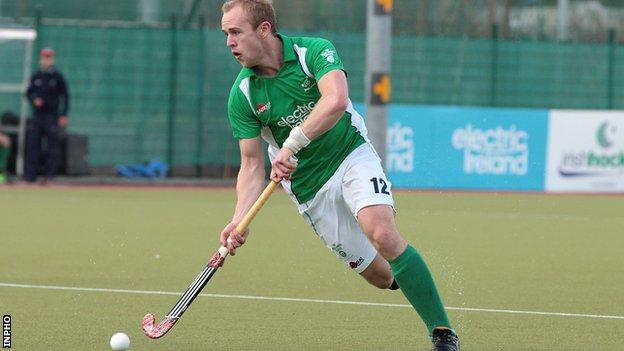 Ireland continued their winning start in the World League 2 campaign as they crushed Fiji 13-0 in New Delhi.
Banbridge's Peter Brown scored his first goal of the campaign as Ireland raced into a 5-0 lead by half-time.
Eugene Magee won his 164th cap to become Ireland's record cap holder and he was also among the goalscorers as the team eased to victory on Wednesday.
Ireland will face a much tougher test against India on Thursday before further games against Oman and China.
Ireland beat Bangladesh 5-2 in their opening match on Monday and Wednesday's emphatic result was achieved through first-half goals from Mitch Darling, Brown, Pheile Maguire, Chris Cargo and new record appearance holder Magee.
Ireland's second half performance was clinical and more success with their penalty corners allowed the Green Machine to rack up more goals.
For the second time in two days, Pembroke Wanderers' Alan Sothern grabbed a hat-trick while team-mates Cargo, Shane O'Donoghue, Geoff McCabe and Conor Harte (2) also got on the scoresheet.
Ireland coach Andrew Meredith was happy with his side's performance.
He said: "I'm very pleased with the result".
"While the three points is the most important thing, scoring 13 goals is rare in an international match.
"Credit must go to the midfielders and strikers for creating a lot of opportunities and having a high percentage of positive outcomes.
"Individually there were some much more consistent performances, which were exceptional in the circumstances that five players had been ill in the last 24 hours."
Ireland starting XI: Fitzgerald, Jackson, Gormley, C. Harte, Loughrey, Cargo, Magee, McCabe, Watt, O'Donoghue, Carson